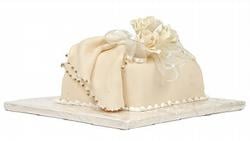 Today I thought I'd share an easy way to save some money—especially for a large wedding, when cutting back on the number of guests just isn't an option. You know it as well as I do: When you walk into a reception, your eyes go straight to the cake. Everyone wants to see what the bride and groom have chosen. The problem is, that cake of your dreams can get kind of pricey—whether it's a "fancy cake by Leslie" or one from your local baker.
Here it is: You can downsize the display cake (which will save a lot of money) and still be able to feed all of your guests. How? Have a regular, less expensive sheet cake in the back. When the display cake is taken to the back to be cut and served, the only change you'll notice is the extra pennies in your pocketbook.
If you still want that huge cake out front, ask your baker about fill-ins. They can be decorated to look just like a layer, but they're hollow, saving you money on expensive slices.
Oh, and one more thing I just learned about wedding budgets: When you're planning yours, it's good etiquette to add in tips for everyone who worked hard to make your day a success. Many people forget to tip the driver, the head waiter, and even the officiant. It's recommended that you tip drivers around $10, while more prominent vendors such as your DJ or consultant would be tipped around $100.
The wedding my team is planning for Haylee and Adien is going well—we may even be using the cake trick ourselves. I'll be back next week with an update and more money-saving tips.
A newcomer to this feature? Check out Maria's first two blog entries.
To read the latest Bridal Party blog posts, click here.