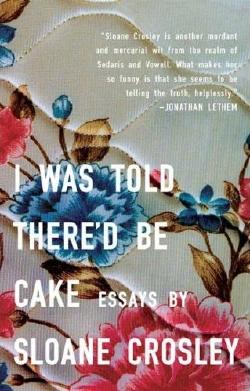 There are authors who take everything they know about weddings (how to find the perfect dress, how to be the perfect bridesmaid) and line it up in a neat little book of charts and lists. Then there's New York Times, Village Voice, and Playboy writer Sloane Crosley. Her first book, I Was Told There'd Be Cake, hits shelves today—and the chapter about serving as maid of honor for a crazy former friend reads nothing like most wedding stories. It's both wry and a riot, and Crosley's cynicism about marriage may alarm you. But you will learn how brides shouldn't act. Crosley talks to Washingtonian.com about her bridesmaid dress, her "friend" Francine's worst bridezilla moments, and more.

Your book is a collection of essays. In the wedding essay, Francine was a great lesson on how brides should never act. What were her three worst offenses?
I think you have to choose your bridesmaids wisely. (It's like the end of Indiana Jones and The Last Crusade when the bad guy drinks from the wrong cup and his face melts off—he chose "unwisely.") Basically, you can't pick just people that fit your vision of your wedding. You have to choose people for whom your wedding fits into their lives as well. Current friends and family only. After that, I would say that you should (a) be up-front from the start about what you need from your bridesmaids and (b) assign them specific tasks. Because no, it will not occur to most women to purchase phallic twisty straws.
You had to unexpectedly give the toast at the reception. Any advice for others who have that job?
If you find yourself having to give a toast, the romantic comedies of the world actually have the best advice on this point: Just speak from the heart.
Tell us more about the bridesmaid dress you had to wear.
Actually, the one I had to wear for hers was not bad at all. Though would I wear it again? No. I thought that was the one redeeming joke in the otherwise lackluster 27 Dresses: the idea that all brides delude themselves into thinking they've done their bridesmaids a favor by choosing dresses that they can "always shorten and wear again!" I think if you interviewed every tailor nationwide, you'd find out that this has never happened.
You say you've never pictured your own wedding, except for the music. What are your top five wedding songs, and why?
1. "The Book of Love" by the Magnetic Fields. Such a romantic song. Regarding music about love: "Some of it is just transcendental. Some of it is just really dumb."
2. "A Kiss to Build a Dream On" by Louis Armstrong. A classic, and good if you were thinking of, say, "At Last." This one has hope to it, whereas "At Last" always strikes me as weirdly desperate. Like thank God you're here—now I'm not going to end up a cat lady.
3. "Yer So Bad" by Tom Petty. I always imagine that this one would be worth some fancy dance lessons. Maxine Nightingale's "Right Back Where We Started From" fits that same bill for me.
4. "Lay Me Down" by the Connells. Just a beautiful song that walks that line between romance and melancholy.
5. "The Hook" by Stephen Malkmus. A weirdly cheery and oddly epic song about leaving one life and starting another. A simple melody with references to wedding rings and pirates. Can't beat that.
Was there anything you liked about Francine's wedding?
Of course. They were the things everyone likes about weddings. Even though I didn't really know the groom, it's always kind of life-affirming to see two people who truly love each other.
I know a few essays got cut from the collection before you published it. What made this essay one of the keepers?
A good humor essay can't be just about an experience you had. That's what e-mail is for. Hopefully, "You on a Stick" takes my experiences and extrapolates some larger meaning or point about it. In this case, my point was about female friendships, a thought process I began—as I imagine many women do—when I found myself asked or not asked to be in weddings in my mid-twenties. For bridesmaids, weddings are kind of a State of the Union.
The essay "You on a Stick" is in Sloane Crosley's new book, I Was Told There'd Be Cake ($14).
To read the latest Bridal Party blog posts, click here.