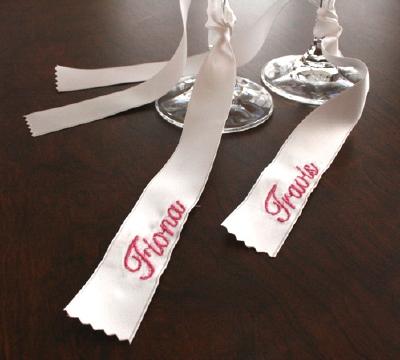 The merchandise in Lillian Vernon catalogs always made me raise my eyebrows (a coffee scoop engraved with my initials? Really?), but it turns out old Lillian was ahead of her time: Lately, the personalization trend is lifting off. There are custom cocktails and cartoons of yourself and my latest find: a custom-embroidery business run by an Alexandria mom. Laura Swanstrom Reece started the Silken Thread after deciding that her "something blue" would be a monogram stitched into her wedding gown—and then having trouble finding a place to get it done. She thought: Why not start my own business? Since 2005, the Silken Thread has expanded to carry dozens of personalized wedding items (plus gifts for baby showers, pets, and more). I caught up with Laura to chat about her work and what we can expect next:
For weddings, you monogram everything from table runners to ribbons that tie on Champagne flutes. What's your best-selling item?
The two bestsellers in our wedding category are the embroidered linen handkerchief and the wedding-gown monogram, which you can take to your seamstress and have put in your gown. A lot of women use it as their "something blue."
Do you have a background in sewing?
My mother was an art teacher, so when I was a child she taught me to sew. I have a bachelor's in art history from Emory University and a master's in arts management from American. I used to work at the Smithsonian, but this I can do from home as my two little girls nap. Being a mom is a wonderful thing, but I needed something for me as well.
Do you do special jobs for people in the Washington area? For instance, if I bring you a set of T-shirts I want to give as favors, will you monogram them?
We do most of our business through online orders, but local people do bring me items to monogram. I take clients by appointment only in my home studio. The only places around here that do monograms are the T-shirt shops in the mall, and a lot of people want something more elegant than that.
I'm definitely seeing personalized items becoming more and more trendy. Why do you think that is?
There's a lot of buzz going on right now about creating memory albums online, scrapbooking, blogs. I think personalization ties in with that. Brides want their wedding to be unique and special and memorable. A lot of brides use pieces of their mother's wedding gown in their own gown or wear their mother's veil. The use of monograms, because it is a traditional art, is another way to keep that heritage alive.
So to keep pace with trend seekers, are you introducing any new products?
We recently added monogrammed chair covers and monogrammed pillows. But we're definitely open to suggestions. That's how the toasting-flute ribbons appeared on our site. We had someone call from Hawaii who wanted ribbons to tie to her flutes, so we did it for her, then added them to the site.
To see more items from Laura's wedding collection ($15 to $82), visit thesilkenthread.com. For contact information, click here.
This story is party of our Bridal Party blog. To read more posts like this, click here.