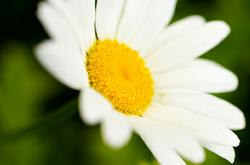 Last Friday, I promised to write about my bridesmaids' getups, but the dresses haven't arrived, so instead I'm going to blog about flowers.
I love daisies. In the chick flick You've Got Mail, Meg Ryan's character says daisies are the "friendliest" flower, and I agree. There's something pretty and understated about their yellow upturned faces and white, uneven petals. Also, they're cheap—and when you're buying flowers in bulk, cheap is good.
"Don't spend money on flowers" is a sentiment shared by a number of previous DIY brides. Especially if you're planning a wedding on a budget, spending a ton of money on resplendent bouquets and centerpieces doesn't make a ton of sense because what happens when your ceremony and reception are over? All those beautiful blooms and elegant arrangements are trashed. If you do have an unlimited budget and absolutely adore flowers, I'd suggest making sure family and friends take them home. That way, they provide further delight.
For us, flowers are a place to save, but of course you can remain chic and sophisticated on a budget. We decided to go with a creamy-white palette. Our invitation, program, bridesmaid dresses, etc., are all a deep wine and cream, so following that theme, my bouquet will be a mix of white hydrangea, white rose, and daisy, all wrapped in a cream-colored satin ribbon. My bridesmaids will carry daisy bouquets wrapped in the same ribbon. And we ordered an extra bridesmaid bouquet to toss during the reception. For the men, we ordered white-rose boutonnieres.
We're not doing a thing to the church because it's breathtaking on its own. And for the reception tables, we're floating several daisies along with white tea candles in clear, spherical vases, which the country club is providing.
Drew's parents were kind enough to order a pretty floral arrangement similar to my bridal bouquet for the rehearsal dinner, which we'll reuse at the reception as a centerpiece for our table. Another great idea is reusing the bridesmaid bouquets as table decorations: Simply plop them into vases and you're done.
It's coming together. Only 63 days to go. And to close, here are several bridal abbreviations and acronyms I find funny. Get engaged and you learn a whole new language:
MOH—Maid of honor
BM—Bridesmaid or best man (you have to be careful there)
RB—Ring bearer
FG—Flower girl
FILs—Future in-laws, so there's also FBIL, FSIL, FMIL, FFIL, for the brother, sister, mother, and father, respectively.
WP—Wedding party
NWR—Not wedding-related (how funny is that?)
STDs—Save-the-date cards (umm, you have to be careful here, too)
E-ring—Engagement ring
HM—Honeymoon
Have I forgotten any? Let me know . . .
Emily, a Washington bride-to-be, writes every Friday about planning her wedding, which will be in Nashville this fall. To follow her adventures from the beginning, click here.
To read the latest Bridal Party blog posts, click here.