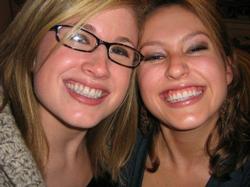 Being asked to stand next to your best friend as she says her wedding vows is truly an honor. But by accepting the role of maid of honor, you're agreeing to more than just wearing a bridesmaid dress and giving a toast at the reception.
The biggest thing you're responsible for is planning the bridal shower and bachelorette party. Emily blogged about this last week, but I'll give you a few more details. The hardest part is coordinating with everyone who's going to attend. Thank goodness for e-mail.
Emily wanted the event to be in New York City. Thankfully, her bridesmaid, Natalie, and her friend, Maggie—both of whom live in New York—were the hosts for the weekend. In order to make the planning more manageable, it's a good idea to delegate some things to other bridesmaids. I asked each girl to bring either a bottle of wine or an appetizer, and Maggie brought a veil and tiara for Emily to wear.
Everyone brought lingerie for Emily, and I had each of the girls make a scrapbook page with pictures and a personal messages—something I knew Emily would treasure.
Unfortunately, some of the bridesmaids couldn't make it because we're all just a year out of college and don't have a lot of money. Those who couldn't come made scrapbook pages and sent them to me in advance so they could still be a part of the festivities.
A maid of honor is also supposed to take as much stress away from the bride as possible. Every time I talk to Emily, I ask, "Is there anything I can do to help you?" I'm from Nashville, and after Emily first decided to have her wedding there, I sent her an e-mail full of potential churches and reception sites. In particular, I raved about Scarritt Bennett, a wedding chapel known for its beautiful stained glass. I was thrilled when she told me they had chosen it as the place to exchange vows.
After Drew proposed, I made a weekend trip to Washington to meet Drew for the first time and help Emily with wedding plans. While I was there, we went dress shopping. Although we were unsuccessful, she figured out what she liked and, more importantly, what she could afford.
I'm hosting a slumber party for Emily and the bridesmaids at my mother's house in Nashville the night before the wedding. I've been coordinating with the bridesmaids about their travel plans, offering to pick them up at the airport and make sure we've got enough cars to get to the bridesmaid luncheon, the rehearsal, and, of course, the ceremony.
The other big responsibility I have is preparing a toast for the wedding reception. I haven't written one yet because every time I try to gather my thoughts, I get tears in my eyes. But I've got five weeks to get that done.
And then there are all the little things I'll need to do on the wedding day: Help her get into her dress and touch up her make-up. Keep track of her belongings so she doesn't have to worry about them. Be the go-to person for any questions members of the wedding party might have. Keep her calm before she walks down the aisle. Hold Drew's wedding ring until Emily is ready to put it on his finger. Hold Emily's bouquet while she lights the unity candle and exchanges rings. Make sure she doesn't trip on her train during the ceremony. Straighten and fluff her train if necessary. Make sure everything runs smoothly before the ceremony and at the reception. Emily is going to have enough on her mind, so I'll want to take away as much stress as I can.
And while all of what I've mentioned is important, the most meaningful aspect of my role is to provide moral support and be a great listener leading up to the wedding. After all, August 30 will be one of the most important days of Emily's life!
Emily, a Washington bride-to-be, writes every Friday about planning her wedding, which will be in Nashville this fall. To follow her adventures from the beginning, click here.
As much as we've loved having Emily writing about her engagement experiences with us, her wedding is fast approaching—so we're looking for a replacement blogger. Are you engaged and planning a wedding? Do you want to share your lessons learned, your trials and tribulations, and lots more with Washingtonians? If you're interested, send an e-mail with why you think you'd make a great wedding blogger to Lynne Shallcross at lshallcross@washingtonian.com.
To read the latest Bridal Party blog posts, click here.