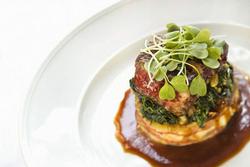 David Dahan was born into a family of 11 in Morocco. That's one big, hungry family! So it's no surprise that Dahan's passion for food started at a young age. When he opened Rockville-based Dahan Caterers in 1998, his goal was to improve the reputation of kosher food. He succeeded. He's now a top-rated caterer in The Washingtonian's wedding guide, and he's done events at the White House and the Supreme Court.
The French-trained caterer knows food. Our readers needed catering advice and sent in tons of questions. In a live chat on Thursday, David came through with four-star answers.
Missed the chat? Find out his thoughts on upcoming trends, catering with ethnic cuisines, and the craziest wedding request he's ever gotten. Read the chat transcript here.
Next week, flowers! Rance Goff of Georgetown's Ultra Violet Flowers will be here to take your questions on Thursday from 11 AM to noon. Submit your questions now.
Want more Washingtonian.com online chats? Check out past Q&As with everyone from bartenders to other wedding pros, and submit questions to upcoming chats.
More>> Bridal Party Blog | Wedding Guide | Wedding Vendor Search