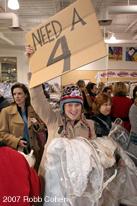 Friday, August 1: Running of the Brides
It's that time again! Grab your sneaks, your best friend, and all the shopping determination you've got—and head to Filene's Basement in Mazza Gallerie (5300 Wisconsin Ave., NW; 202-966-0208) for the Running of the Brides. Doors open at 8 AM (but many dedicated shoppers arrive much earlier), and in less than 60 seconds, brides-to-be wipe the racks clean. They carry as many dresses as they can hold to a corner of the store to begin trying on. Then the bartering of gowns between shoppers begins. Overwhelming? Maybe. Worth it? Definitely. Gowns are a steal at $699, $499, or $249. Free; 8 AM.
Friday, August 1: Sample Sale
After getting trampled, get pampered. That's the idea at Harriet Kassman Bridal Salon in Mazza Gallerie (5300 Wisconsin Ave., NW; 202-363-1870). After running with the rest of the bargain-hunting brides downstairs at Filene's Basement, head up two floors to Harriet Kassman for a glass of champagne and a sample sale with 50 percent off dozens of designer wedding gowns. Free; 10 AM to 6 PM.
Friday, August 1: Trunk Sale
If you're in love with Monique Lhuillier's designs, you're not alone. So is Carine's Bridal Atelier (1726 Wisconsin Ave., NW; 202-965-4696). That's why they're proud to be the only boutique that carries Lhuillier's bridal designs—and proud to host a trunk sale of her gowns Friday through Sunday. Browse more than 40 dresses from the collection. If you place an order over the weekend, get 10 percent off. Appointments are required, and they're filling fast. E-mail info@carinesbridal.com or call to make an appointment. Free; store hours are Friday and Saturday 11 to 7, Sunday 12 to 5.
Every Day: Love at First Bite
Starting this month, the ladies at Hitched bridal salon (1523 Wisconsin Ave., NW; 202-333-6162) have teamed with the Baltimore Cake Company. And what a sweet couple they make! Now you can shop for that perfect dress and pick up a two-pack to go. Or place a custom order 48 hours in advance of that shower or bachelorette party. Whatever your cupcake needs, Hitched has you covered. The cupcakes are delivered fresh every day in flavors including toasted marshmallow, key lime, and Hitched-exclusive coconut framboise. Call for prices. Store hours are Tuesday through Thursday, 12 to 8, Friday 11 to 6, and Saturday 9 to 5.
To submit a bridal event, email lshallcross@washingtonian.com.
More>> Bridal Party Blog | Wedding Guide | Wedding Vendor Search