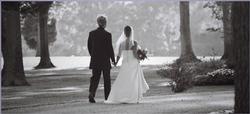 If we were getting married, Martin Andrews would be one of the first people we'd call. Why? Well, aside from being one of the nicest guys in the industry, Martin knows his stuff. As owner of Blue Sky Films, (801 Wayne Ave., Suite 200, Silver Spring; 240-494-1022), Martin started shooting weddings in 2000 with the goal of making the videos a more cinematic, nostalgic experience. Has he succeeded? According to rave reviews from his clients, he has indeed.
Yesterday, Martin came in for a live chat to share all the need-to-know details when it comes to videotaping your wedding. How can you tell if a videographer is good? What should a couple budget for filming the wedding? What happens when there's an awkward moment caught on tape? If you missed the chat, read up on all of Martin's best wedding advice here.
Next week, wedding planner Laura Auer will be here to answer any and all wedding questions you have. Submit them now, and Laura will answer them from 11 AM to noon on Thursday.
More>> Bridal Party Blog | Wedding Guide | Wedding Vendor Search