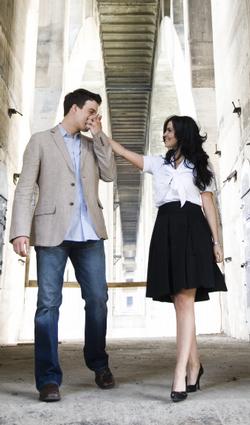 It was one day after Heather Russell, 26, had graduated from Boston University. She'd packed up her things and driven seven hours back home to Anne Arundel County, where she grew up. She and her best friend weren't set to move into their new place in Georgetown until the next day, so they decided to head to a friend's graduation party at Pusser's Caribbean Grille on the Annapolis waterfront, where Heather had worked one summer during college.
Ryan Muety, 29, and his twin brothers decided to head to Pusser's that night as well. He'd worked there one summer, too, but not the same one as Heather. Ryan, a director for an Italian sporting company, spotted Heather in the bar that night, thought she was beautiful, and worked up the courage to talk to her. He asked Heather what she was drinking—a Painkiller-tini, a Pusser's specialty. He asked if he could buy her one. She politely declined. But Ryan didn't give up there.
"Later on, he came over to my table of girlfriends, pulled me aside, and asked to take me to dinner," says Heather, a marketing manager. "I tried to play it coy, but I thought that he was the most handsome guy ever and he seemed genuine, so I gave in—with the encouragement of my best friend—and gave him my number."
Ryan stuck to the "standard three-day rule," Heather says, and called her the following Wednesday. Heather invited him to come to a barbecue she and her roommates were hosting. When she told her friends the guy from the bar would be coming over, they pegged him as just a summer boyfriend. "I remember my roommates blaring the song "Boys of Summer" when he first arrived—I was so embarrassed," Heather says. After hanging out at the barbecue and taking a walk down to the Georgetown waterfront, Heather says, they just "clicked." When the date wrapped up and Heather was back at home with her best friend, Heather told her she'd found the one. Her friend told her she was "in love with being in love," Heather says. "Which is true. I have always believed in love—but I also have great instinct and I just knew he was the man for me."
When: Saturday, September 20.
Where: The ceremony will be at Calvary United Methodist Church in Annapolis, the reception at the Westin Annapolis.
Wedding colors: Chocolate brown and white, with peacock-blue accents.
Food: Maryland crab cakes and filet mignon.
Drinks: The Annapol-tini, created by Ryan's brother, is Heather and Ryan's signature cocktail.
Honeymoon: Two weeks in Hawaii.
How he proposed: Ryan had been working in Italy for four months when Heather joined him for a ten-day vacation. While in Venice, they took a gondola ride through the canals. "We had just passed Giacomo Casanova's house—cheesy, right?" Heather says. "And I told him I would never forget this night. My first time in Italy, Venice, and on a gondola—you can't get much better than that." Ryan told Heather he wanted to make it even more special, and as the boat swayed in the water, he got down on one knee. "I grabbed him because I was afraid he was going to fall over—and then he took the ring out of his pocket and proposed."
Silliest fight: Over dishes, Ryan says. About traveling, Heather says. "You should see us in the airport—he is always ten steps ahead of me, rushing around, telling me to pick up the pace. I am getting sidetracked by every magazine stand and pretzel shop. But then we always get there super early and are bored while waiting for our flight—and then my magazines and pretzels come in handy."
Most romantic gesture: Heather bought Ryan a flat-screen TV for Christmas last year: "I totally don't get the whole huge-TV craze, but I knew he really wanted one, so I went into the store by myself, learned more than I ever wanted to about TVs, and bought him an awesome one as a total surprise! I think that's sort of romantic."
When Ryan knew they were meant to be: One month after they started dating.
Favorite date spot: The beach, Ryan says.
The worst name Heather calls Ryan: "I refer to him as a historical dictator—I won't name names—when we travel. It's become his travel alias."
The sweetest name Ryan calls Heather: Bella.
The one food Ryan will make sure to take a bite of at the wedding: The groom's cake, Ryan says. He grew up in a suburb of Chicago, and in honor of that, his future sister-in-law is making a Chicago Cubs hat cake.
We'll be running new Save the Date columns every Tuesday that showcase fun local couples that are getting married. Are you getting married—or know someone who is? We'd love to hear from you. E-mail lshallcross@washingtonian.com with a love story you think is worth telling.
Want more Save the Dates? Read them here.
To read the latest Bridal Party blog posts, click here.