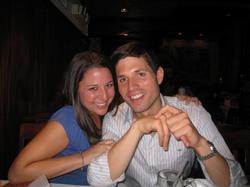 About a month after Ron and I got engaged, I bought him a book called The Groom's Game Plan. This handy little guide gives the groom sound wedding-planning advice, such as "Be agreeable and don't argue with your fiancée about the details." Some men would be annoyed at such a gift, but Ron is patient with me, so he said thank you and read the book as voraciously as he would, say, a Stephen Ambrose historical work.
After we got engaged, Ron and I had agreed that he would plan the honeymoon. The groom's guide also suggested that planning the honeymoon is a good way to include the groom-to-be in wedding planning. This was fine by me because Ron and I have the exact same opinion when it comes to vacations—they should be lazy and on the beach with lots of cocktails and good food. More to come on this in a later post.
Ron and I also agreed that he should be in charge of finding a rehearsal-dinner site, which made sense because Ron's parents will be paying for the dinner. About four months ago, Ron started doing research on restaurants where we could have our rehearsal dinner. Four months later, we still have no restaurant.
Allow me to tell you a little something about my Ron Burgundy: He is very slow at making decisions. He prefers to say he is thorough. I prefer to tell him he is indecisive. It did take him three months to even ask me on a date.
I digress. The first month of Ron's rehearsal-dinner research involved him mentally reviewing the restaurants that we like to frequent with friends in DC. We wanted the rehearsal dinner to be fairly casual because the wedding will be formal. The first place Ron thought of was Lauriol Plaza, which is definitely our favorite restaurant in DC (who doesn't love its queso and pitchers of margs?). "Lauriol Plaza" shows up on my credit-card bill at least four times a month. Ron contacted the restaurant, and unfortunately it only rents the third floor for private parties Sundays through Thursdays. Sigh.
Moving on. Ron continued to do some research. He didn't have much luck, so I suggested places like Hook, Old Ebbitt Grill, Sequoia, and Rosa Mexicano. Hook and Rosa Mexicano were entirely too expensive, Sequoia was booked, and Old Ebbitt won't let you choose more than one entrée. Another issue is that most of the restaurants in this overly political city are steakhouses, and we don't want our guests to eat the same food two nights in a row. So in Ron's defense, it was a difficult assignment.
For the next few months, Ron kept looking around but couldn't find any options that satisfied him. Even Ron's mom started to get annoyed and told him she would have to get involved if he couldn't make a decision. So I decided to take some action—I can't help myself—and suggested Peacock Grand Café, which is delicious and only five blocks from the Hay-Adams. Ron contacted Peacock, and it's available, moderately priced, and very flexible with its menu. It has the private room on hold for us until we make a final decision, but this looks like a great possibility. Anybody have any other suggestions?
Eleni, a local bride-to-be, writes every Wednesday about planning her wedding, which will be in Washington in the spring. To follow her adventures from the beginning, click here.
To read the latest Bridal Party blog posts, click here.