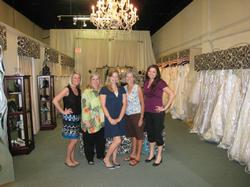 When I was younger and pictured trying on my wedding dress, I didn't envision stripping down in a department store and buying a dress that cost less than some of my everyday shoes. Regardless of whether there was already a wedding dress in my closet, I knew I wanted to see what all the other dress designers had to offer.
So when my future mother-in-law scheduled a trip to DC from Rhode Island for a long weekend, we decided we were going to hit the shops and see as many dresses as possible. I wasn't exploring other options just to go through the motions or to play dress-up with more gowns—I kept questioning if I could love the dress I had without having seen anything else on the market. So after greetings with hugs and kisses at the airport Friday night, we were off to get some rest for the marathon shopping trip ahead.
Beginning our journey on Saturday morning, my mother, my future mother-in-law, and my two bridesmaids, Jessie and Erin, piled into my car. We drove to Distinctive Designs in Rockville, and as soon as we walked inside I knew we were going to be treated like royalty. As we met the consultant and walked to the back of the store, I saw so many amazing designer dresses hung on mannequins, each a different style, shape, and color. I was in heaven!
After I explained to the consultant what my dream dress looked like, she went to the racks and handed me several gowns, then followed me into the dressing room. I'm not shy by any means, but a word of warning to girls who are: There are no secrets from your consultant in the dressing room. Getting into some dresses requires squeezing, shifting, and maneuvering—at one point, the consultant was literally under my skirt!
But we finally worked my body into the first dress, and as I came out of the dressing room, all four of the women who were with me gasped. The "garden dress," as we began to call it, was an amazing off-white sheath with intricate beadwork and a cloudlike texture. As I stepped up on the pedestal and saw my reflection in the triple mirrors, it was completely surreal. Sure, I had thrown dresses on in the Filene's aisles, but this was different. Standing on a pedestal and seeing my reflection in this amazing gown simply felt magical. My consultant grabbed a veil for me, and that really cemented the feeling that this was all really happening. In a year, I would be wearing a dress like this one and walking down the aisle to be with Andrew. Wow.
It took me a while to get back into the dressing room because I was really liking my reflection, but the consultant finally talked me off the pedestal and we repeated the ritual five more times. Every dress I tried on was amazing, but that garden dress felt so right. It wasn't a typical princess dress, but considering my reception venue, maybe that wasn't such a bad thing? As we wrapped up our one-hour appointment, I asked if we could try on the garden dress one more time. The consultant happily obliged, indulging me for just a few more minutes. Looking back at my reflection in this wonderful gown, I couldn't believe I had already fallen in love with a second dress, and this was only my first bridal shop! Something tells me this isn't going to be an easy decision.
Lisa Marie, a local bride-to-be, writes every Friday about planning her wedding, which will be in Washington in July. To follow her adventures from the beginning, click here.
If you like reading about Lisa Marie, make sure to check out our other blogging bride-to-be, Eleni, who writes every Wednesday. Follow her adventures here.
To read the latest Bridal Party blog posts, click here.