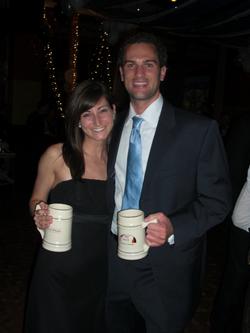 In July 2003, Sarah Szabo packed her bags for DC. She'd graduated from Virginia Tech that winter, moved to Pittsburgh, and then broken up with her college boyfriend. "For a young girl trying to get over a breakup," she says. "Pittsburgh's just not the city to do so." She settled on DC, hoping to live the single life with all of her friends in a new city. So when her roommate, Wendy, wanted to introduce her to a family friend named Chris who happened to live in their building, Sarah politely declined. But a few weeks later, she heard a knock on the door.
"I was thinking two things," says Sarah, 28. "One, don't open the door the whole way—you just moved to a new city, and he could be a serial killer. And two, this is Chris? Wow, he's really cute! Had I known how good-looking he was, I would've introduced myself weeks ago."
Chris Myers introduced himself and told Sarah that he knew Wendy and wanted to come up to welcome them to the building. "I didn't have a friend in the building when I originally moved in," says Chris, 30. "I figured it'd be nice as a newcomer to have someone to borrow sugar from. And I was kind of hoping Wendy's roommate would be cute—and she was!"
Sarah invited Chris up to her apartment a few times for dinner, and soon after that he asked her out for their first date. "We've been together for five years now, and after meeting Chris, I finally know what all those sappy love songs were trying to say," says Sarah, a communications manager. "I've had more fun, learned more about myself, and more about life from being with Chris than I ever would've experienced without him."
Sarah and Chris, who works in finance, had a tradition of weekly date nights where one of them was responsible for planning an outing. When it was Chris's turn to plan a date night in September, he knew he had his chance to plan a surprise proposal. The pair went to dinner at Westend Bistro, and then Chris suggested they walk around the monuments—one of Sarah's favorite activities and something they did on one of their first dates. They drove over to the Lincoln Memorial and walked up the steps to take in a view of the Mall. "Chris started saying a lot of really sweet things," Sarah says. "Not really thinking this was the proposal, I sort of hugged him in appreciation and, in the process, felt his chest. His heart was pounding, and I thought to myself, 'Can he not walk up that flight of stairs without getting out of breath? We need to up his cardio.' But a second later, I turned around to find Chris on one knee. He proposed—with his heart beating out of nervousness—and I said yes!"
Chris and Sarah walked back to the car, where Chris had flowers, Champagne, and a blanket waiting. They sat in a nearby park, called their families, and celebrated. "I'm just thrilled and lucky that I get to marry Chris," she says. "The strength of our relationship, the closeness of our friendship, and our sheer good fortune of finding each other is certainly not lost on us."
When: September 12, 2009.
Where: Ceremony at Foundry United Methodist Church in DC's Dupont Circle and reception at Top of the Town in Arlington.
Colors: Brown with accents of burnt orange and cranberry.
Cake flavors: Most likely chocolate and raspberry.
First dance: "Someone Like You" by Van Morrison.
Honeymoon: They're not sure of the destination, but there'll definitely be a beach, Sarah says.
First date: Sushi dinner in Ballston followed by a game of pool. Says Sarah: "I won the first game and was frankly really impressed with my skills. "About a year later, we played pool again and Chris literally ran the table. When I asked him where his newfound talents came from, he said, 'Oh, yeah, I let you win on our first date. I didn't want you to feel bad.' "
Silliest fight: Over milk, Sarah says: "Chris loves whole milk, and I'm a two-percent girl. There's still a milk struggle in the grocery store." Chris says it's over the toilet seat: "Up or down? It's an uphill battle for me."
Most romantic gesture from Sarah: When Chris was staying late at the office studying for his Series 7 exam a few years ago, Sarah made a gift basket filled with snacks and goodies so he wouldn't be hungry while he was stuck at his desk.
Most romantic gesture from Chris: Sarah's birthday falls during the holiday season and during a busy time at work, meaning many of her friends and coworkers often can't celebrate. To make up for it, last year Chris organized a surprise birthday party with all of Sarah's friends and coworkers.
Sweetest nickname: Sarah is "Beautiful Angel" and Chris is "Sweets."
One thing others would be surprised to know about Chris: That he doesn't like any type of cheese, Sarah says: "Who doesn't eat cheese?"
One thing others would be surprised to know about Sarah: "She sings into her bottled water while on car trips, giving a concert to the cars around her," Chris says.
When Chris realized they were meant to be: After a small argument they'd had, he says. "All relationships have their great times, but it's how the tough times are dealt with that prove your commitment. We rarely argue or fight, and once I realized that we could argue and move on, then I knew I couldn't let her get away."
When Sarah realized they were meant to be: On a trip to visit Chris's parents' house in Colorado. "I remember sitting in his parents' living room and laughing with his family and their friends," Sarah says. "I looked over at Chris and realized how much I loved him and just knew that this was going to be it for the rest of our lives."
Check back here every Tuesday for new Save the Date columns showcasing fun, local couples who are getting married. Are you getting married—or know someone who is? We'd love to hear from you. E-mail lshallcross@washingtonian.com with a love story you think is worth telling.
Want more Save the Dates? Read them here.
To read the latest Bridal Party blog posts, click here.