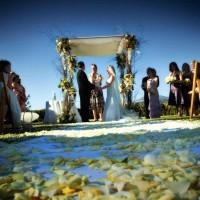 Your wedding day will probably fly by in a blur. All those months of planning evaporated in a matter of hours. How can you relive the day once it's gone? Through the photos that captured so many of those precious moments.
Because photography is such an important element to every wedding, we called in an expert. Michael Bennett Kress, a DC native, has been a photographer for more than 30 years. His career started out with the gift of a camera for his bar mitzvah, and years later he's still shooting.
With a degree in photographic sciences from the Rochester Institute of Technology, Kress started his career as a commercial and advertising photographer before switching to social events. He and his team at Michael Bennett Kress & Associates (4710 Bethesda Ave., Bethesda; 301-654-0909) are life-cycle photographers, covering everything from bar and bat mitzvahs for children of past wedding clients to weddings of previous bar and bat mitzvah clients.
Michael brought all his photo knowledge and his best advice to The Washingtonian yesterday for a live chat. How do you get great photography on a budget? What happens when there's family drama? Is it taboo to take the bride-and-groom photos before the wedding? If you missed the chat, catch up on all of Michael's answers here.
More>> Bridal Party Blog | Wedding Guide | Wedding Vendor Search