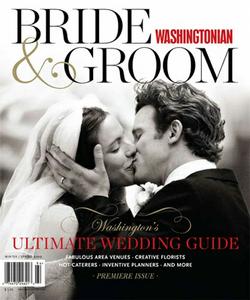 I'm incredibly excited to tell you that Washingtonian Bride & Groom, The Washingtonian's new magazine, arrives on area newsstands today! For more than 20 years, The Washingtonian has been writing about and reviewing the local wedding scene, and now, the the first time, we've created a stunning 240-page luxury magazine filled with the best stories, photos and advice for discerning brides and grooms. Over the past few months, I've gotten to know many of the talented florists, event planners, jeweler, caterers, and photographers (to name a few) who've contributed to the new magazine, and I'm thrilled to present them and their work to you.
So, please pick up a copy of Washingtonian Bride & Groom at a local newsstand, and drop me a line to relay your thoughts and opinions about your favorite features. You can also recommend a terrific local wedding professional, submit your own wedding photos for a future issue or let me know what you'd like to see next.
I hope you enjoy reading the premiere issue of Washingtonian Bride & Groom!
With warmest regards,
Jill Hudson Neal
Editor in Chief
jhn@washingtonian.com
More>> Bridal Party Blog | Wedding Guide | Wedding Vendor Search