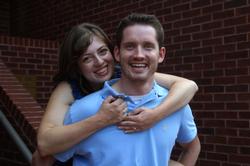 Lindsey Rowe doesn't really remember dancing with Stephen Roberts at her friend Hannah's wedding in 2006. "I remember a nice guy with lots of curly hair, but I was so absorbed with being a bridesmaid and emotional about my best friend getting married that I think I was just overwhelmed that night," says Lindsey, 25.
A year after the wedding, Stephen was studying for his master's degree in divinity in southern California and needed to go to Seattle to do some research. Hannah, who married Stephen's best friend in Lindsey's hometown of Seattle, decided to play matchmaker. She suggested Lindsey grab dinner with him and his friends and show them around. "I thought, 'This girl is scheming, but I want to take a hiatus from dating right now,' " Lindsey says. "So I just planned on having fun with a great group of guys and not worrying about any romantic intentions."
But things don't always work out as planned. "I laughed all weekend," Lindsey says. "I didn't want to get involved in a long-distance relationship, but I didn't want him to leave when the weekend was over." They exchanged numbers and talked once after the weekend. About two weeks later, Stephen, 26, called a second time—this time to say he was about an hour outside of Seattle. "He had to evacuate his house because of the forest fires and instead of hanging out with his buddy's family in Los Angeles, he drove 22 hours to Seattle to take me out on a date," says Lindsey, a freelance writer in DC.
Stephen knew it was the right move. "I have an incredible array of defense mechanisms that would normally quash such romantic notions, but I had this inner confidence, like a voice saying, 'Go ahead and forget the normal rules. This is it,' " says Stephen, who starts basic training next month to be an Army chaplain in the reserves.
Lindsey was nervous, but said yes. "In retrospect, I think I didn't want to do it because I didn't want to get my hopes up," she says. "No one had ever done anything so romantic for me, and I didn't want to get let down if it didn't work out. But I took a lot of deep breaths and decided to take a risk." Lindsey and Stephen went to a wine bar and then out for a sushi dinner. "We had a delightful time together," Stephen says. "At one point, I just looked at her and said, 'This was worth it. Those 22 hours of driving for these two hours tonight, it was worth it.' "
When: May 2, 2009.
Where: Seattle.
Colors: Fuschia pink and butter yellow.
Food: The cuisine will have a Northwest theme, including salmon skewers.
Music: DJ—Lindsey's mom's cousin is a police officer with a DJ business on the side.
Honeymoon: It's a surprise! "Stephen is planning it," says Lindsey. "So we'll all find out in May!"
First impression: "He was remarkably easy to talk to, intelligent, handsome, the perfect height. I knew that he was a deep thinker and romantic and yet also lighthearted and fun," Lindsey says. "Classy," Stephen says. "She's much more low-key and mature than I am. She was one of the rare types that's both introverted and engaging from the outset."
First date: Wine and sushi. Says Lindsey: "I think it was in the sushi restaurant that I knew I was falling head over heels for someone I had only spent a few days with. We talked about everything, but also laughed, especially when he kept popping edamame all over the place."
Proposal: Stephen borrowed the key to Lindsey's church and lined the aisle with candles and her favorite flowers. Then he sang and played on the piano a song he had written for her.
Silliest fight: Over a muffin, they both agree. "Lindsey could have had a free muffin at church one Sunday morning, but declined, saying it'd be unhealthy," Stephen says. "As soon as we got in the car, she said she wanted a bite to eat, and she ended up getting a ham, egg, and cheese bagel sandwich. I thought she was irrational. She thought I was crabby—and I was."
Most romantic gesture: "Before I moved to DC, Stephen spent time in Seattle with my family and then flew down to Southern California to be a best man in a wedding," Lindsey says. "I was anticipating flying to DC by myself when I moved a few days later. But to my surprise, he met me on my layover in San Diego and sat next to me on the plane ride to DC. That was really important to me because I was taking such a big step in moving." For Stephen, it was when he was in Seattle during the wildfires and Lindsey bailed on a friend on Halloween night to go for a chilly walk with him. "It was romantic because it gave me hope, though she only said thank you when I told her I liked her that night."
Favorite date spot: Enology Wine Bar.
Nickname: "Stephen and I joked early on that we should have a celebrity nickname, so we dubbed ourselves the 'Roweberts.' "
Something others would be surprised to know about Stephen: "People who meet him for the first time are always surprised at how much they like him and how fast they decide they like him. Everyone really falls in love with his friendly, genuine, and gregarious personality."
Something others would be surprised to know about Lindsey: "She's courageous in the true sense of the term—boldly walking forward into a mysterious future in spite of fear and anxiety. I think many see the anxiety and think of her as timid. They couldn't be more wrong. She's strong."
When he knew they were meant to be: "When I had decided with no serious thinking and without practical reason to drive up to Seattle. I was carried by a God-induced love that took me where I'd otherwise be unwilling to go."
Check back here every Tuesday for new Save the Date columns showcasing fun, local couples who are getting married. Are you getting married—or know someone who is? We'd love to hear from you. E-mail lshallcross@washingtonian.com with a love story you think is worth telling.
Want more Save the Dates? Read them here.
To read the latest Bridal Party blog posts, click here.