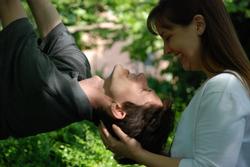 Brijana and Frank Anderson might have been opposed to President Bush, but they owe him a thank-you for their fateful meeting.
Early on the morning of January 20, 2005, Brijana had made her way down to the Mall to take part in an Inauguration Day protest against the reelection of President Bush. A group called Turn Your Back on Bush planned to turn its back when the President's motorcade went by in the parade.
As the group went through security and lined up to reach the parade route, Brijana, an ESOL teacher in Fairfax County who went in protest of the No Child Left Behind Act, caught the attention of Frank, a fellow protestor. "I laid eyes on him at 14th Street and Pennsylvania Avenue," says Brijana, 28. "I noticed a cool-looking guy about ten people back in line wearing an ear-flapped aviator's cap and yellow Bono sunglasses. I thought, 'Hey, that guy's looking at me. Oh, it's probably because I'm looking at him!' "
The pair spent the next seven hours standing on the curb on Pennsylvania Avenue waiting for the motorcade and getting to know each other. "We talked nonstop and laughed a lot," Brijana says. "I knew in some way or another I had to have him in my life because you don't just meet someone like this and let him go." After the protest finished, Frank, 31, walked Brijana back to the Metro and asked for her phone number. "She wrote it on a little scrap of paper that I will keep forever," says Frank, a political-science student at Northern Virginia Community College.
Frank called that weekend, and the couple had their first date at the Wharf in Alexandria only five days later. After dinner, they headed out into the cold January evening for a walk along the Potomac. "We had our first kiss by the Torpedo Factory, under a full moon," Brijana says. "He asked when he could see me again, and when I suggested a day the following week, he said, 'No. I can't wait that long.' "
Two years of dating later, Frank decided it was time to go ring shopping. But because he was a newly enrolled college student, Brijana thought an engagement would be a long way off. "I put the proposal under the 'someday' column in our future and told myself I could wait because I knew right now was his time to be a poor college student," Brijana says. But Frank had other plans.
In March, Frank took Brijana out for an Italian dinner, and the two decided to walk off their meal afterward in Old Town along the Potomac. They passed the spot where they had their first kiss and headed toward Founder's Park. As they hugged on the path, Frank got down on one knee. "I thought he'd just been swept away by how romantic the moment was and he was going to propose to me without a ring," Brijana says. "Just then, he reached into his coat pocket and I realized he'd been planning this the whole night! After saying yes, I bawled uncontrollably and tackled him onto the gravelly path."
The pair made their inauguration romance official with a July wedding at Woodlawn Manor in Sandy Spring.
For Inauguration Day on Tuesday, Brijana and Frank plan to head toward their spot at 14th Street and Pennsylvania Avenue, this time to celebrate a new president and their chance meeting four years ago. And while they haven't sent President Bush a thank-you note, they offer him a nod of gratitude. "We both joke that Bush is a uniter," Brijana says. "No matter how much we disagree with his policies, we're very happy he won in 2004."
More>> Bridal Party Blog | Wedding Guide | Wedding Vendor Search