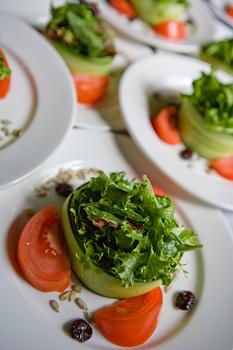 Choosing a caterer for your reception is like choosing a wedding dress: There are so many amazing options with such a variance in prices. Luckily, our beautiful venue has specific caterers it requests that brides work with, so my options were narrowed down to about 15 vendors.
After a blanket request to all for price quotes, Andrew and I decided to meet with three caterers to see which one wowed us the most. But before we sat down with them, we realized that we had to get on the same page with each other about what we wanted in our wedding meal.
Andrew loves food, so he wanted the best of the best to serve our guests. A carnivore to the core, he wanted beef, seafood, and chicken in every aspect of the meal. He likes straightforward concepts with high-quality ingredients and strongly wanted his preferences reflected in our menu.
I, on the other hand, had a bit of a different view. I'm a vegetarian who loves different cultural dishes and wanted something that would wow our guests with unique and intense flavors. It was time for another lesson in compromise, and unfortunately for our first caterer, we decided to wait and discuss it when we had some food in front of us.
Thankfully, the first caterer we visited was incredibly patient with our differing views. The head chef sat down with us at a table and listened to everything we wanted. Although we didn't end up choosing that caterer, it was incredibly helpful to sit down with a chef, talk through our different opinions, and get his take on what the guests would enjoy the most from our day. There's also something quite decadent about sitting in a room as the only two people dining, with various people bringing you amazing dishes and doting on you. We left that tasting with the bar set pretty high.
The second caterer we met with was quite a letdown for both of us. This caterer was one of the popular choices at Meadowlark, so we expected the same level of personal attention and amazing cuisine. Although our consultant was nice enough and the food we sampled was tasty, there didn't seem to be that same intensity in the meals. Furthermore, while the first caterer sat down and talked us through the different options, this one simply laid out the standard operations and implied that we were expected to follow what the company asked of us. We want a wedding tailored for us, not one that follows a standard protocol!
Andrew was convinced that we should just move forward with our first caterer, but I insisted that we go to our last scheduled tasting with Fusions Cuisine. From the start, these folks stood out to me, and I was intrigued to see what the chefs prepared for us. The husband-and-wife team who run the company invited us into their home for the tasting, which was surprisingly not as awkward as it may sound. They have an absolutely precious four-year-old daughter who joined us for the meal, and it instantly felt like we were having dinner with old friends.
But the comfortable atmosphere was only the beginning. The food they cooked was simply amazing. Andrew said the beef they prepared was absolutely perfect, and my vegetarian dinner was literally the best entrée I've ever eaten. The husband studies molecular gastronomy and uses incredibly interesting techniques to create his breathtaking meals. We left the tasting excited about the meal we'd be able to serve to our guests. As Andrew said as we walked out the front door, "This is a Top Chef meal on a hamburger budget."
As icing on the cake, we've been invited to come back to sample our final menu for the wedding, essentially as a second tasting to make sure the food is exactly what we want it to be. But one thing already is certain: We knew from that first bite that we had found our wedding caterer.
Lisa Marie, a local bride-to-be, writes every Friday about planning her wedding, which will be in Washington in July. To follow her adventures from the beginning, click here.
If you like reading about Lisa Marie, make sure to check out our other blogging bride-to-be, Eleni, who writes every Wednesday. Follow her adventures here.
To read the latest Bridal Party blog posts, click here.