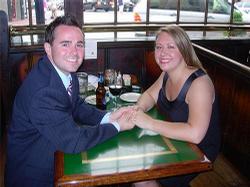 Love in John and Jackie Kennedy's Camelot is the stuff of legend—literally.
The story of the couple's engagement is disputed. Some say that JFK popped the question over the phone (others claim he sent a telegram) to girlfriend Jacqueline Bouvier in London while she was there covering the coronation of Queen Elizabeth II for the Washington Times Herald. Another version says he proposed at Boston's Omni Parker House hotel, in a restaurant near the press room where friends threw his bachelor party and where he made his first speech at six years old.
Yet one rumor sends Kennedy fans, history buffs and romantics straight to the corner of Wisconsin Avenue and N Street, Northwest. Martin's Tavern, an intimate spot in the heart of Georgetown, says its booth number three is the where the Kennedys got engaged. And fourth-generation owner Billy Martin says the Kennedy clan has thrown its weight behind the story.
A haunt for the nation's political elite in its heyday, Martin's is known for food, service, and a clientele that never changes. In its 75 years, the restaurant has served every president from Harry Truman to George W. Bush, and the staff is itching to get Barack Obama through the doors.
JFK was known to prefer booth number 1, a slim, train-car-style bench seat for one (or a cozy two) near the glass-and-mahogany vestibule, where he'd eat breakfast and digest his Sunday paper after attending Mass at nearby Holy Trinity Church.
But on Wednesday, June 24, 1953, as the story goes, the young senator from Massachusetts didn't dine alone. Bouvier and Kennedy sat in one of Martin's tall-backed booths looking out onto N Street and at each other under a glowing Tiffany lamp. John proposed, Jackie accepted, and the rest is history.
For locals Jennifer Hetu and Michael Zukewich, the famed Kennedy proposal is a fairy tale with a modern and very personal twist. On June 24, 2007—54 years to the day after John popped the question—Michael proposed to girlfriend Jennifer in the same booth. Their story is a Washington romance in its own right. After moving to the District in early 2007, the couple took a tour of Georgetown where they learned of the fabled proposal at Martin's. Or rather, Michael learned. "It went straight over my head," Jennifer admits now. "I totally missed it."
Relocating to Washington and learning the city's history had Jennifer starry-eyed as she and Michael explored their new hometown. A couple of months after the Georgetown tour, Michael bought tickets to a matinee of The Phantom of the Opera at the Kennedy Center (Kennedy. . . get it?) and booked an early dinner at Martin's. Michael proposed, a very surprised Jennifer accepted, and they married back home in Michigan just over a year later.
Since then, Billy Martin claims, half a dozen or so couples have followed in the Kennedys' and the Zukewiches' footsteps. It's a place where a couple's personal history is intertwined with something bigger, Jennifer says. Full of history, celebrity, romance and rumor, the "proposal booth" is more than very Kennedy. It's altogether quintessentially Washington.
More>> Bridal Party Blog | Wedding Guide | Wedding Vendor Search