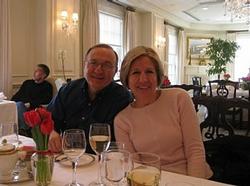 My mother has always said you can cut corners elsewhere, but you should never cut corners on the food. When Ron and I got engaged, my mom immediately started talking about the food. One thing people always remember about weddings, she said, is the food.
Having attended several weddings myself, I agree. The food might not be the most important part of the night, but if the meal isn't tasty, it could be a major damper on the party. Before Ron and I booked our reception at the Hay-Adams, we made sure to have lunch in the restaurant. We figured the food would be good, but we wanted to make sure.
So now that we're just a couple of months away from the wedding, it's time to finalize the menu. This past weekend, Ron and I went to the Hay-Adams with my parents to have the tasting. Because there was free food involved, my brother also wanted to be involved.
I have to say that aside from dress shopping, this was my favorite part of wedding planning. Amanda from the Hay-Adams sat with us through the meal and described each course to us as it arrived. First up were the salads, then the entrée, and then the dessert. The sweets we tasted were cheesecake and a strawberry tart. Ron and my brother pretty much inhaled the cheesecake, so that decision was easy. We also sampled the Champagne (Scharffenberger), which was so delicious—not too dry but also not too sweet. Ron and my dad aren't Champagne lovers, but they really enjoyed it.
Amanda also talked through the reception timeline with us, which was borderline overwhelming, but we managed to get through it. I had totally forgotten about things like mother/son and father/daughter dances!
We saved the best for last, of course: cake samples. Up until this point, I hadn't been very opinionated regarding the food. I thought everything tasted good, so I didn't mind much either way.
The cake, though, was a different story. I knew it had to be chocolate, and I was not backing down.
Included in the Hay-Adams's wedding package is a cake from Kendall's Cakes. Kendall came to meet us during the tasting, and she brought four samples with her. She actually brought six, but I'd neglected to mention that I'm allergic to nuts. Two of her samples had nuts in them. Oops.
Kendall started to describe each of the four flavors, but I was done after just one: chocolate truffle cake. That's rich chocolate cake, ganache, chocolate sauce, and chocolate buttercream. I didn't need to taste anything else. It was a chocoholic's dream come true.
Kendall was really excited about my choice because chocolate is her favorite, too, but she doesn't often get to bake it for brides. I brought along a photo of a round chocolate cake with purple sugar flowers that I had seen in InStyle Weddings. She had already seen the picture and was excited to base our cake on it.
And that's all there was to it. Kendall said the next time we see her, she'll have a big chocolate cake for us!
Eleni, a local bride-to-be, writes every Wednesday about planning her wedding, which will be in Washington in the spring. To follow her adventures from the beginning, click here.
If you like reading about Eleni, make sure to check out our other blogging bride-to-be, Lisa Marie, who writes every Friday. Follow her adventures here.
To read the latest Bridal Party blog posts, click here.