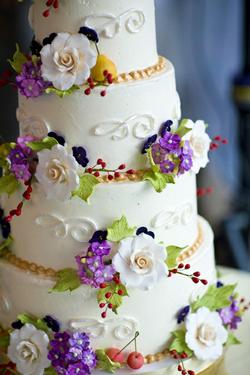 Lara Stuckey's passion for baking started at the tender age of five with an Easy-Bake Oven. She grew up and earned degrees in psychology and fine arts—but fed her love of baking by working part-time at CakeLove.
Nine years ago, thanks to a suggestion from a friend, Stuckey decided to combine her passions for art and baking into a business. She opened Fluffy Thoughts Cakes in her licensed kitchen in McLean. So where does the psychology fit in? "Baking is therapeutic," Stuckey says. "Seeing customers' faces once they see their cake is very rewarding. It's worth every single second that I invest in the cake."
Lucky (and hungry) brides can choose from a wide variety of flavors. Some favorites include Elvis's Dream (banana cake with alternating layers of peanut butter and chocolate buttercream), Oh Oh Good (chocolate or red-velvet cake with Oreos and cream covered in buttercream frosting), and Pucker Up (yellow cake with lemon curd and coconut buttercream covered in buttercream frosting).
Stuckey is coming to The Washingtonian on Thursday. And while we wish it were for a cake tasting, it's for something even better—a live chat. Submit your cake questions now, and Stuckey will answer them from 11 to noon on Thursday.
More>> Bridal Party Blog | Wedding Guide | Wedding Vendor Search