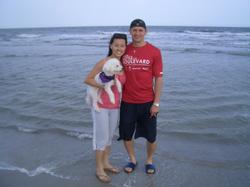 Jodie and Rafal's love story began on a kickball field near the Washington Monument. In October 2006, they found themselves placed on the same team but didn't get to know one another until Jodie accidentally left her T-shirt behind after one of the games.
As the team was walking to a bar for some after-game drinks, Jodie, 28, an IT analyst, realized she'd forgotten her shirt but decided she was too far away to go back for it. Just then, she saw her teammate Rafal holding an extra white shirt. "I figured it was someone's from our team," says Rafal, 28, a private trainer, "and because a few of us were going to the bar, I was going to ask the teammates there if it belonged to any of them."
So Jodie approached Rafal to tell him it was probably hers. "After the initial conversation about the shirt," she says, "I asked him if he was headed to the bar because I hadn't seen him there after our games." Rafal said he was going, and the two headed on to the bar with the rest of the team.
They spent the whole time chatting and getting to know each other. When Jodie was ready to leave, Rafal asked her for a ride home. "It was funny," he says, "because, one, I found her shirt and, two, this was maybe my second and possibly last trip to the bar after a game, so I'm glad things worked out the way they did. I asked if she minded taking me home, and she said she'd give me a ride. So I got my things, and the rest is history."
Kickball kismet? Jodie and Rafal think so. "I don't know why I thought it was my shirt or why he'd pick up someone's shirt that he didn't know who it belonged to," Jodie says. "It was fate."
When: May 9, 2009.
Where: Ritz-Carlton, Pentagon City.
Colors: Cream and celadon.
Music: The couple will have a harpist and violinist for the ceremony and a DJ for the reception.
Honeymoon: A week in St. Lucia.
First impression: Well educated, goal-oriented, and funny, Rafal says about Jodie—"with a good sense of humor and a great conversationalist with a nice smile." Jodie was immediately attracted to Rafal: "After all, he's a trainer and an athlete. But he was more than that. He seemed genuinely a great guy. After I dropped him off, he called me about 30 minutes later to make sure I got home okay."
The proposal: Rafal told Jodie that their dog, Bella, who had been sick, had made a mess in the bathroom. He told her she had to go in and see what Bella had done. When Jodie went in, instead of a mess she found a ring. "I'm glad she was surprised and so happy," Rafal says. "I loved her continuous smile that day and the days that followed. It made me really happy to see her like that and so gorgeous."
Favorite date spot: Great Falls with Bella.
Silliest fight: A few too many to name, Jodie admits: "I can get fired up fairly quickly and easily."
Most romantic gesture: Rafal, who is Polish, learned how to say "You're beautiful" in Korean, says Jodie, who is Korean-American. "One day, he came over to hug and kiss me and whispered it in my ear." For Rafal, Jodie cooks. "That's the most romantic thing," he says, "because guys love to eat, and it's true that the best way to a man is through his stomach!"
Something others would be surprised to know about Rafal: That he doesn't train Jodie. "People always assume because he's a trainer I'd benefit from his services, but I don't and don't want to. I've tried working out with him, but I think he's extra hard on me so I don't like it."

Something others would be surprised to know about Jodie: "Most people think Jodie eats really healthy because I'm a private trainer, but I eat whatever I want, so that's not always the case."
Personal stamp on the wedding: The representation of Jodie's Korean background and Rafal's Polish background. The invitations were written in English, Korean, and Polish, and the DJ will play one or two Polish and Korean songs at the reception.
When Rafal knew they were meant to be: "I know we're meant to be because there's nowhere I'd rather be than at home with her. Also, going through our tough times and making it through, I know we're on the right path into the future. We complement each other well."
When Jodie knew they were meant to be: "The first time I realized he was different than the rest was when my dog, Bella, who's very skittish and doesn't take to anyone, immediately took to him. Any day Rafal had some free time during the day, he'd take the 30-minute Metro ride to my place to take Bella out for a run and play with her. I was very touched that he'd take the time to take care of Bella so early on in our relationship."
Check back here every Tuesday for new Save the Date columns showcasing fun, local couples who are getting married. Are you getting married—or know someone who is? We'd love to hear from you. E-mail lshallcross@washingtonian.com with a love story you think is worth telling.
Want more Save the Dates? Read them here.
To read the latest Bridal Party blog posts, click here.