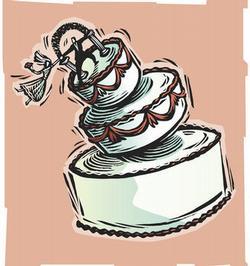 Thursday, March 12, though Saturday, March 14: Adele Weschler Trunk Show
Did you miss Promise . . . for the Savvy Brides' Adele Weschler trunk show last weekend? No problem! The South African designer is having another trunk show starting today and running through Saturday at Rizik's. Ecofriendly gowns from Adele's fall and spring collections will be on view, and brides who purchase during the show will receive 10 percent off. Appointments are required; free.
Friday, March 13: Kenneth Pool Designer Showcase
Georgetown's Carine's Bridal Atelier has added Kenneth Pool to its bridal collection, making the store the exclusive retailer of the designer's luxuriously dramatic gowns in the District. As part of the unveiling, Carine's is hosting a one-day-only preview event on Friday, where brides can meet with a Kenneth Pool sales representative from New York and get a special look at the latest collection. Brides who purchase during the show will receive 10 percent off. Viewings are by appointment only. Free; 11 to 7.
Monday, March 16: Beyond the Invitation Workshop
Plan ahead: Some brides may tell you that planning a wedding is like a full-time job. From finalizing the guest list to planning the groom's dinner to carrying out the reception, there's a lot to think about. Reston's Paper Source is holding a Beyond the Invitation workshop, where couples can get ideas about everything stationery-related. Get creative with themes and customization for your invitations for the bridal shower, rehearsal dinner, bachelor and bachelorette parties, and more. $55.00; 6:30 to 9:30 PM.
More>> Bridal Party Blog | Wedding Guide | Wedding Vendor Search