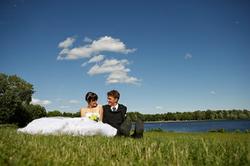 Getting engaged is a heart-fluttering, knees-buckling, smile-till-it-hurts kind of experience. But there's more than fancy dresses, pretty cakes, and sparkly rings to getting married—there's the relationship you're hoping will last forever.
"Often, the issues couples face during the intense period of their engagement later become the perpetual issues of the marriage," says couples counselor Lori Gunnar Kolle, a social worker and clinical director at Jewish Social Service Agency in Rockville. "It's an important time to note, for instance, how your partner handles stress and whether tensions arise within a bride or groom's own family and among future in-laws."
For more than two decades, Kolle's been working with couples before, during, and even near the end of marriage. What's one sure-fire way to give your marriage the chance it deserves? Talk before you tie the knot. Here's Kolle's premarital checklist of topics worth discussing sooner rather than later.
• Explore expectations: Be clear with each other about perceptions of what a husband or wife should be and how you'll be as a couple.
• Understand yourself and your partner: Know your partner's personal history and the family situation he or she comes from. Also observe your partner's temperament and personality traits. All of these can affect your marriage.
• Communicate effectively: Let your partner know you're really listening. Be respectful of his or her feelings, even when you don't understand them. Stick to discussing one issue at a time, reserve judgment, and check out the accuracy of your assumptions about what your partner means. Aim to use positive comments with him or her five times as much as you use negative ones.
• Resolve conflicts by fighting fair: "Most important," Kolle says, "is not learning to have no conflict but rather learning how to do repair work when you've had differences. It's very hard to do repair work when you've touched a nerve." To avoid this, avoid using loaded words. And when you make a complaint, accompany it with a request for change.
• Tune in to sex and intimacy: Acknowledge the many factors that can influence sex and intimacy for each of you. These factors may include each partner's genetics, sex drive, religious beliefs, and gender. Be aware that stress levels can affect sex and intimacy. A goal of starting—or avoiding—a pregnancy can have an impact, too.
• Divvy up work: Do both of you expect you'll be a two-income household? Will you have help at home? You can change your minds later, but be clear with each other before the wedding.
• Talk dollars and cents: Figure out how you'll deal with financial issues together. What do you each expect to spend on various items you'll need or want? Will you have joint accounts? How will you set up your retirement accounts? How do you each feel about savings? Debt? Financial risk?
• Think of the kids: Discuss each partner's expectations about children. Do you want them? How many do you want? Will you work or stay home if you do have children? What kind of parent do you each want to be?
Why make the effort to tackle these topics now? Studies show that couples who complete a premarital course have, on average, more successful marriages.
Interested in learning more? Kolle is leading a seven-session Making Marriage Work program for engaged and newly married couples of Jewish and interfaith backgrounds. The course, including in-depth lessons about topics on this checklist, will run from April 29 to June 10 from 6 to 8 PM at JSSA's Fallsgrove office (200 Wood Hill Rd., Rockville). For more information, call 301-816-2633.
More>> Bridal Party Blog | Wedding Guide | Wedding Vendor Search