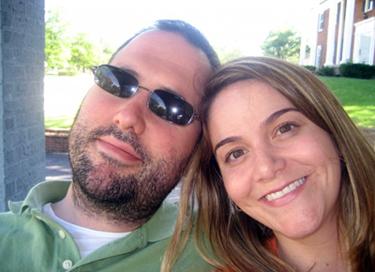 Note: Please welcome Erin, our latest Bridal Party blogger. She'll be posting every Tuesday.
In life and especially in relationships, there's a lot to be said for being in the right place at the right time. I was always confident that I'd meet my future spouse in college. That was the way it had worked for a lot of people I knew in the Midwestern town where I grew up, and it seemed perfect: have a shared alma mater, a few fun years together post-graduation, and a beautiful wedding at age 26 or 27.
The timing wasn't right for me, though. I never really clicked with anyone in college, and my twenties were full of fun, short, and mostly disappointing relationships. I finally met my fiancé through a mutual friend at age 29. Turns out, he had gone to college with me, but even though we had some friends in common, we'd never met. Our paths crossed for the first time at a happy hour on Capitol Hill in the summer of 2007. It was a warm August night, and I had very little on my mind beyond beer and Buffalo wings. I definitely had no idea that the man I was going to marry was the big guy with the scruffy beard who had just sat down next to me.
The timing was right. Even though I wasn't actively looking for love that night, I was ready to meet someone wonderful—and so was Randy. We went out on our first date a couple of weeks later.
After nine great months of dating, he surprised me with tickets to a Ben Folds concert at Wolf Trap. I was very excited to see the concert, but also because I had a suspicion that he was going to propose that night. We considered one of Ben's songs—"The Luckiest"—to be "our song," and I had a hunch that Randy was going to pop the question when Ben played it. The concert was great, but as it neared the end and Ben still hadn't played the song, I could see Randy's face start to fall. I couldn't believe it, either: It was his most romantic song and he wasn't going to play it? Nope.
After two encores, the lights went up and disappointment was written all over Randy's face. Trying to cheer him up, I told him that we'd listen to the song on a CD on the way home, knowing full well that it wouldn't be the same. The timing had seemed right—romantic outdoor concert, music that held meaning for us—but the proposal hadn't happened. It was a huge bummer for me but also for Randy, who had tried to contact Ben in advance to request the song.
A few weeks later, we traveled to Cincinnati for a friend's wedding and decided to stop at our alma mater (Miami University of Ohio) to reminisce. We walked around campus, showing each other where we had lived, exchanging memories, and wondering how many times we had passed right by each other and never noticed.
"I really wish I'd known you back then," I told him wistfully. But he surprised me by saying he was glad we hadn't met in college. He wasn't sure we would've appreciated each other back then and that it probably took dating a lot of people who weren't right for us to find the one who was. I thought about it and realized that he was on to something: The things that were important to me at age 20 weren't the same things that were important to me now. I love Randy because he's continually loving and supportive, he gets my quirky sense of humor, he matches it with a sense of humor that's equally weird, and, best of all, I always feel completely at ease and at home in his presence. I'm not sure if any of that would've been as important to me when I was 20 as it is now.
At the end of our walk around campus, we reached Upham Hall, site of the Upham Arch, a famously romantic spot on campus. Tradition says that sweethearts who kiss under the Upham Arch will get married. Knowing this, we stopped and shared a kiss, right as the campus bells began to chime at 6 PM. I felt Randy reach into his pocket, and sure enough, he pulled out a ring and knelt down.
At that moment, I knew that the concert proposal wouldn't have been right. I had passed under this arch many times before as an undergraduate, not knowing what my future held. I'd been self-conscious back then and sometimes lonely. I never knew that my future husband was right there with me, just across campus, having struggles of his own. We'd come a long way, and yet here we were, back in this spot. Randy proposed, and I said yes!
We have now been engaged for one year and will tie the knot on October 3. We've had a pretty long engagement—it'll be 15 months by the time we get married—but it's difficult to have a shorter engagement in Washington, where everything is booked a year or more in advance. It's also kind of nice to be able to enjoy being engaged without feeling rushed. There's a lot of stress involved in planning a wedding, so it's a relief to plan at my own pace. And of course, if there's one thing I've learned—in life, relationships, and planning a wedding—it's that you have to take your time.
To read the latest Bridal Party blog posts, click here.