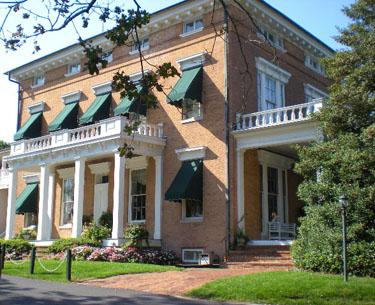 A month after I got engaged, I had two things on my mind (other than trying to erase the image of me hulking out on my wedding dress). The first was finding a venue. The second was finding a dress. I decided to start with the venue, because unlike the dress, I couldn't do it any bodily harm.
Ben and I began our search, and I couldn't help but feel a little like Goldilocks. One place was too small, another too big. This one was too informal, another too stuffy. But finally we found one that was just right. When we pulled into the parking lot at Antrim 1844 in Taneytown, Maryland, Ben looked a little doubtful. The drive had taken more than an hour, and he said this place better wow him if he was going to consider going this far afield. Lucky for me, Negative Nancy (Ned?) quickly disappeared as soon as he got out of the car and looked around.
The charming manor house was warm and homey, the garden beautifully manicured, and the ballroom light-filled and gorgeous. And just when I thought it couldn't get better, it did: Ben and I wanted an outdoor wedding, which was a bone of contention with my Catholic family. Antrim's vendor list included the name of a Catholic priest who regularly performs ceremonies in the garden. This was it—Antrim seemed to be the answer to everything. We set the date for August 22, 2009. I got a call from Antrim a couple of days later saying that another couple wanted that date, and if we were flexible and moved our date to August 15, we'd get a complimentary Champagne toast. Jackpot!
Next, it was time to find a dress that would allow me to bust a move without busting a seam. My first stop was Harriet Kassman in DC's Mazza Gallerie. Saleswoman Leeza Isaac could probably plan a wedding in her sleep. She knows how to choose a dress that will fit both your taste and your body perfectly, and she promises to be your advocate through every step of the fitting process. I walked out of the store feeling like I'd met my fairy godmother.
A couple of stores later, I found my dress. Promise for the Savvy Bride was a small shop in Bethesda, but it recently shut its doors. Luckily, I found Promise before the recession did and was fortunate enough to purchase a gorgeous trumpet silhouette dress from L'ezu Atelier during a sample sale.
Now that my dress was taken care of, it was time to outfit my army. Let me preface this by saying I've collected a wonderful group of friends throughout the years as well as a more-the-merrier mentality. When I started telling people about my seven bridesmaids, the first thing they did was say, "Seven?" as if they thought I'd goofed and meant to say four. When I assured them they'd heard correctly, they'd raise an eyebrow and say, "Well if you're sure . . . " as if those incredible words of wisdom would make me immediately decide to kick one of my best friends to the curb. Ben was initially a little hesitant about the large number, and I explained that you don't always need to have an equal number of groomsmen and bridesmaids. Regardless, he got jazzed about the idea after realizing it was a good excuse to include many of his best childhood friends. Our wedding party was officially at 14.
The daydreams of my merry little wedding army grew more complicated when I realized that having seven bridesmaids meant outfitting seven women's different body types. I doubt even Einstein could come up with an equation to solve this problem, unless it looked something like this: 7 women's body types + 7 women's self-esteems ÷ 7 women's budgets = 1 big headache.
So I decided to improvise, finding one dress line I really liked (Jasmine B2) and choosing the New Red color in chiffon. Then I looked on the designer's Web site and found a selection of 18 dresses that were all tea length and requested my girls to e-mail me their top two choices. Surprisingly, there was only one overlap. Next, I called around to different shops in the area to get price quotes and then haggled among three stores to get the best price per dress. In the end, I got each of my girls her favorite dress for well below the retail price. (Ladies, you can thank me later.)
For shoes and other accessories, Amazon and Overstock were my best friends. I found that if you Google the brand name and color, you can get your accessories from a couple of vendors and average out the price to stretch your dollar a little further. Granted, this isn't for someone short on time or patience.
I learned that it takes three months from the time you order your bridesmaid dresses for them to be delivered, so doing this sooner rather than later was definitely helpful. Getting started early also gave me extra time to hunt down a couple of ladies who were a little harder to get in touch with about their measurements.
After this was all taken care of, it was time to do what I'd been looking forward to since I first learned about weddings. Ever since I was a little girl, the one thing I've envisioned more than my dress or my ring and (dare I say it?) almost as much as my groom was the cake. It was time to begin the search for the confection of perfection.
I'll tell you all about that quest next Wednesday!
Read more posts by Diana here.