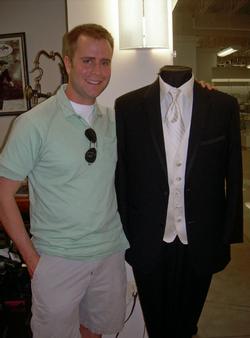 Lately, I've been reminding Ben to take care of his tuxedo. I have my dress, all my accessories, and my ensemble is at the seamstress. I've learned that guys run on Guy Wedding Time, which is a special alternate universe where everything can be done in a day. They don't like to think about it and want to make a decision quickly and get it over with.
While Ben is a wonderful guy and likes to be somewhat involved in the wedding planning, I've learned one feature of Guy Wedding Time is that the guy in question will inevitably become overwhelmed if you present him with too many options. I've found it best to do the research first, present your fiancé with three options, and then let him choose.
Anyway, we're about three months from the wedding, and it's time to start looking at suits. But as we found out, it took visits to more than three stores before we found the perfect tuxedo.
Our first stop was Men's Warehouse. I know that we're at the height of wedding and prom season, but this store's Rockville location held all the excitement of a DMV. The girl who measured Ben rolled her eyes at me during a discussion of shoe size when I mentioned that feet swell in the summer (our wedding is in mid-August, so I thought it was a valid point). That irked me, but what bothered me more was that during our color and style consultation, the consultant seemed about as interested in our meeting as Paris Hilton in a physics class. Finally, we asked to get Ben's measurement information so we could leave. The consultant just handed it to us and walked away. Worst of all, the measurements weren't right. When I called customer service to complain, they apologized and said the manager of the store would call me to set up a personal appointment. It's been a month, and I've given up waiting for that call.
A very nice salesman greeted us when we walked in the door at JoS. A. Bank. Unfortunately, he was quickly taken away from us when his elderly, non-English-speaking partner decided it was his turn to have a client. Needless to say, we didn't stay long. It was at this point Ben realized that finding a tux might not be as easy as he originally planned.
Next, we went to Eric Finn, a small, second-story shop in DC's Dupont Circle. The owner, Matt Landsberg, knows his suits and was very friendly and welcoming. The great thing about this store is that you can get a custom-made tux for as low as $800. Unfortunately, while we would've loved to work with Matt, the price was above our budget.
Next stop: Hannelore's in Old Town. The service was nice and so were the tuxes, but we still didn't find what we were looking for. Ben wanted to buy his tux, and an off-the-rack tux at this store would be more than $700. For that price, we might as well go back to Eric Finn for a custom tux.
It was starting to feel hopeless when inspiration struck. Why not look online? We found a reputable site called Jim's Formalwear, used the tux-builder feature to find the tux ensemble we liked, then went to a local retailer to check out the combination in person. Keep in mind, there are a lot of things going on with a tux. With the jacket, you have to decide if you want tails, double-breasted or single-breasted, notch or shawl lapel, and vented or unvented. Next, you decide if you want a pleated or flat pant as well as the various accoutrements such as studs, cuffs, shoes, ties or bow ties, vests or cummerbunds, and wing-tipped or flat-fronted shirts. Jim's Formalwear made it really easy. The best part was that we were able to get the tux Ben wanted that cost more than $700 at Hannelore's for $350, and the tux arrived only two days later.
Because we didn't want to use Men's Wearhouse for the groomsmen's rental tuxes, we went through a Jim's Formalwear retailer. The Web site lists stores all over the country that carry that clothing line, which was helpful because we have groomsmen in Virginia and Colorado. I called the stores, told them the tux style we wanted, the vest and tie styles and colors, pocket-square color, and shoe style.
Last step, Ben sent an e-mail to his guys with the information on tuxes and a deadline by which they need to be fitted, sent his suit to the tailor, and that was that. When asked to comment on his tuxedo-shopping experience, Ben said in true GWT fashion, "It wasn't as easy as I thought it'd be—a lot more complicated, just like the wedding!"
Read Diana's story from the beginning, here.
To read the latest Bridal Party blog posts, click here.