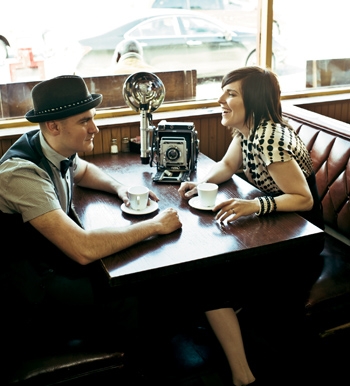 The Experts: Sota Dzine
703-645-0900

What should couples look for in a wedding photographer?
Photographers should tell the tale of your love story and your wedding day in a unique way. We meet with our clients six or seven times before the wedding. During that time, we come up with an original concept for their photos and get to know them better. We also scout various locations so that we can present a backdrop or landscape that they may not have thought of.
What are couples asking for today that they weren't ten years ago?
These days, couples want to look like they stepped out of the pages of a magazine. They know that we can make them look more amazing than they ever thought they could. You'll never look more beautiful or handsome than on your wedding day, so you should milk your photographer's passion and creativity for everything they've got. All three of us at SOTA DZINE (Nicole and Brad's business partner, Jeremy Bustos, is based in Chicago) know that couples view their wedding day almost as an opportunity to have a once-in-a-lifetime photo shoot.
What do you learn during the first meeting with new clients?
We want to get a gut feeling for whether it's a good fit. I never ask clients to book on the spot. We've learned that it's better to let them walk away, and then come back if they feel comfortable. Then we take all the little ideas the couple gives us and story-board the overall concept.
What's the strangest request you've had from a couple on their wedding day?
Honestly, we're usually the ones making the strange requests! We shot a wedding in Aruba not long ago, and we asked the couple to stand on a cliff overlooking the ocean for 20 minutes while we waited for the perfect wave. They were such good sports, and when we got it, everyone was so excited! The crazier the requests are from the bride and groom, the happier we get because they're thinking outside the box. It's like, "Let's go make a piece of art!"
This interview first appeared in the Summer/Fall 2009 issue of Washingtonian Bride & Groom.
Subscribe to Washingtonian
Follow Washingtonian on Twitter
More>> Bridal Party Blog | Wedding Guide | Wedding Vendor Search