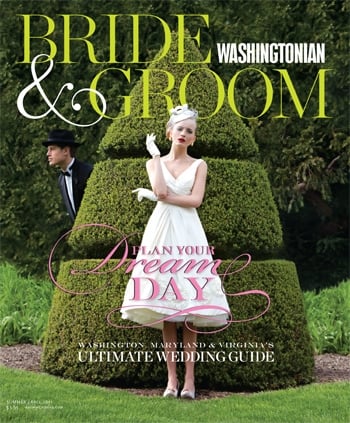 The summer/fall issue of Washingtonian Bride & Groom is now on newsstands, and boy, am I proud new mama! You know how when your best friend, sister or fill-in-the-blank gives birth, and they won't stop talking about the kid or sending you pictures of the baby every single day? Well, that's kind of where I am about this particular magazine . . . only (I hope) not so annoying. But our staff worked on the stories, features, and lists in this issue for months, and the results are just so darn beautiful that I'm going to insist that anyone who's planning a DC-area wedding pick up a copy right now.
Some of my favorite things inside: A showcase of 13 of the prettiest local weddings our editors have seen in a long time; a totally fun beauty story that imagines what Hollywood A-listers would do with their hair and makeup on their wedding day; photos of yummy reception cuisine prepared by some of the area's best caterers; and the definitive guide of the best wedding vendors in the Washington region.
But I'm in love with the 20-page bridal gown story, which we shot in March at Ladew Topiary Gardens just north of Baltimore during an insane spate of bad weather. Looking at these amazing photos, you'd never know that our crew battled driving rain, nasty cold, crazy wind, and a grumpy Russian model to bring pictures of a dreamy landscape to life. Lessons learned? Organize, organize, organize before the big event (the same principle of planning a wedding applies to large magazine photo shoots). And when models are involved, have lots of sugary foods on hand. 'Cause girlfriend probably needs a donut.
We're always looking for new and better ways to help Washington couples with their wedding planning, so drop me a line at jhn@washingtonian.com—or reach out on Twitter (we're @WashBrideGroom)—with your suggestions. In the meantime, you can find the current issue at most bookstores and supermarkets across Washington. For a sneak peek at a few standout features in the issue, scroll down. Happy reading!
Best,
Jill Hudson
Editor-in-Chief, Washingtonian Bride & Groom
PS—Not already subscribed to our Bridal Party newsletter? Sign up with this survey and we'll send you a free copy of the issue!
Food Fight. Choosing what to serve at your reception is tricky. We matched different dining options—now you decide.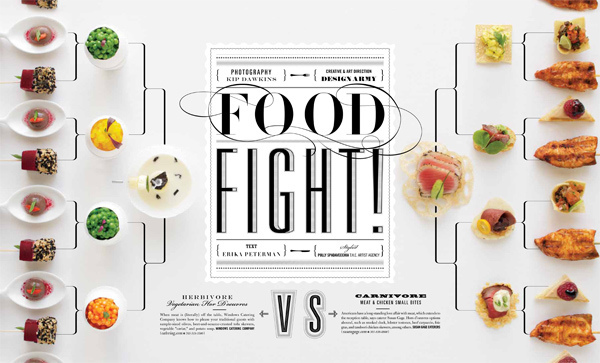 Bride and Seek. Photographer Cade Martin brings a fairytale setting to life. In case you're wondering, we really did make her sit in that tree!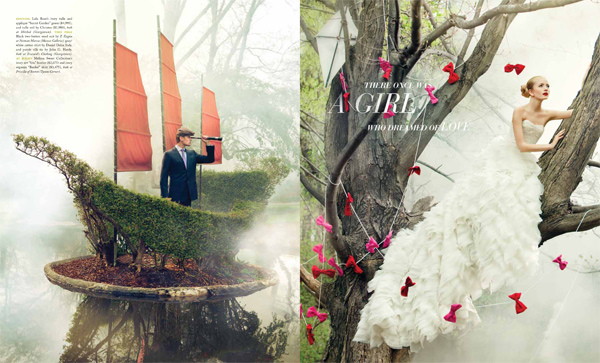 Real Weddings. I'm a little bit biased because he's The Washingtonian's Design Director, but Mike Leister and his adorable wife Beccah pulled off one of the most creative weddings we've seen in a long time. Twelve other terrific local weddings are also highlighted in this issue.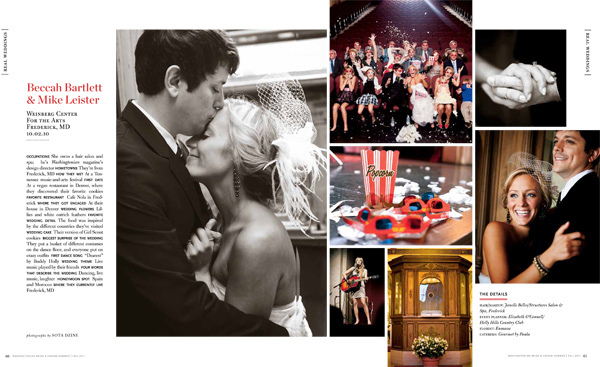 Subscribe to Washingtonian
Follow Washingtonian on Twitter
More>> Bridal Party Blog | Wedding Guide | Wedding Vendor Search