Briean and Casey make bright yellow raincoats look chic. Photograph by Lisa Boggs Photography
While we were buying obscene amounts of bottled water and batteries to prepare for Hurricane Irene, we couldn't help but think about couples whose weddings were planned for last weekend. Did they have a rain plan? Would they postpone or cancel the whole thing?
But then on Sunday we heard from photographer Lisa Boggs who shot a wedding on Saturday night at National Harbor—the couple, Briean and Casey of Kingstowne, Virginia, decided that the show must go on and still held their wedding, which happened to have a nautical theme. And guess what? It was all gorgeous.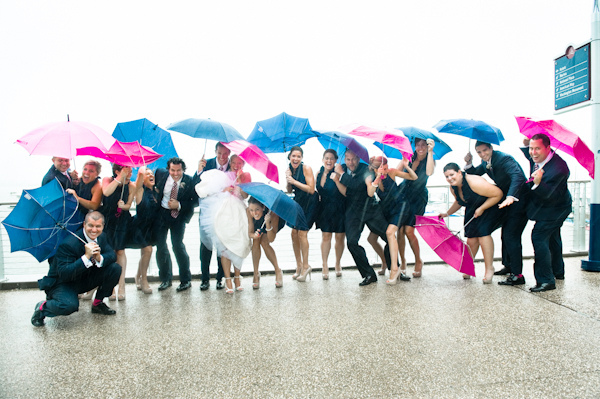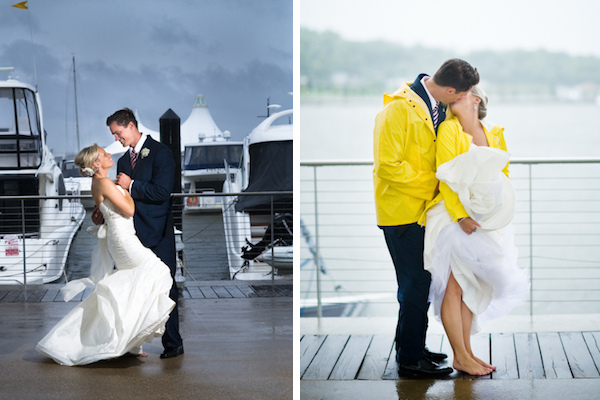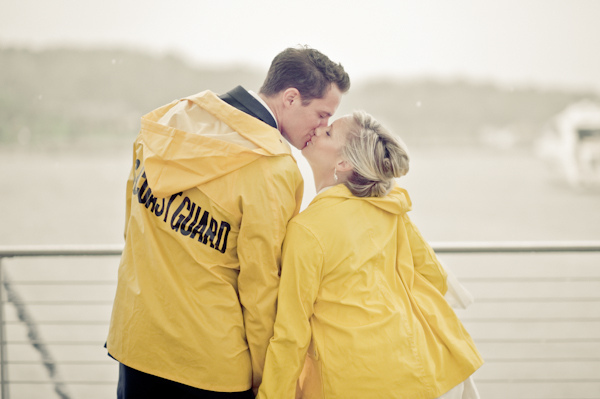 Here's what Briean had to say about her wedding day:
"When a girl dreams of her wedding, I can guarantee a hurricane is not involved in the big picture. For over a year I had planned out the perfect, cutest, preppiest wedding I could dream of on the water at National Harbor. The cocktail hour was going to be under a huge tent along the Potomac River. The reception was planned for inside The Sunset Room with floor-to-ceiling windows where guests could watch the sunset over the water. Everything was planned and thought of. That is until the week leading up to August 27, 2011."
"We discovered early in the week that an unexpected guest would be attending the wedding. We had not planned for her, we did not want her to come, we did not have room for her to sit, and she was putting a huge wrench in our plans. Her name was Irene. Every day we watched her every move. We hoped she would slow down, speed up, or just somehow miss us. Well, it turns out she had to arrive on our wedding day."
"So what are a bride and groom to do when they realize a hurricane is headed straight for them on their wedding day? Embrace it and move forward, lean on your family for emotional support, and you count on your vendors to still pull it off. We all adjusted."
"We added a Hurricane as our signature cocktail and we purchased every single navy blue and pink umbrella we could find. For our photos, we sprinted outside in the wind and rain with our umbrellas (me in my bare feet!), and we even got to wear our yellow rain jackets. We were having the best day of our lives. Sure, not everything was 'perfect.' Our adorable cocktail hour was moved inside, the fireworks scheduled for that night were canceled, our guests and bridal party were soaking wet at times, but we had a wedding in a hurricane! Who else can say that?"
"At the end of the day, we were still married in front of 200 friends and family. We still had photos taken outside, a first dance, cake cutting, and a bouquet toss. The weather brought everyone together. We still had a wedding just like every other couple, but instead of a beautiful sunset, we opted for a hurricane."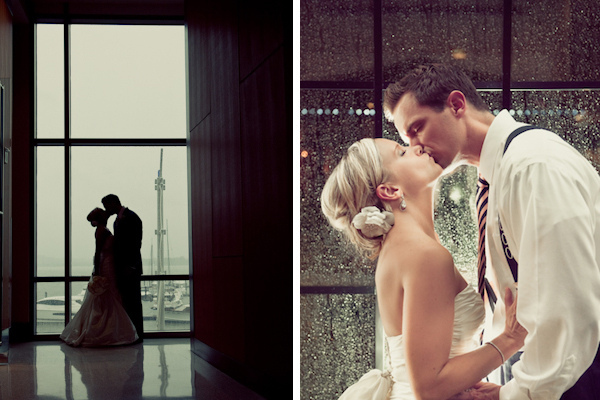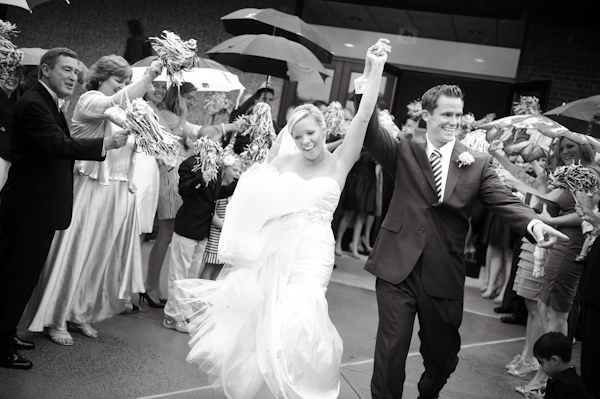 Thank you so much to Lisa Boggs and Briean for sharing their story!
Subscribe to Washingtonian
Follow Washingtonian Bride & Groom on Twitter
More>> Bridal Party Blog | Wedding Guide | Wedding Vendor Search