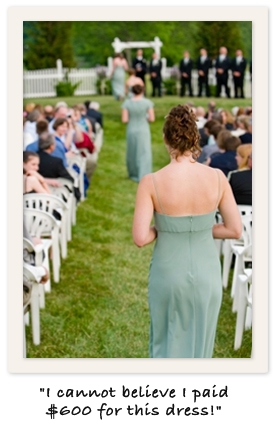 If the popularity of the movie Bridesmaids is any indication, it seems that this duty is a rite of passage for women—and, increasingly, men. And like any rite of passage, it comes with its own set of challenges.
"Participating in this experience can cement a friendship. To be chosen is an expression of friendship, an appreciation of you," says Irene Levine, a clinical psychologist who wrote the book Best Friends Forever and offers advice on The Friendship Blog.
But even if getting chosen to be a bridesmaid is meant to be an honor, the role sometimes comes with conflict. Talk to a handful of veteran bridesmaids, and you're bound to run into some stories of ragged friendships—or at least some eye rolling. Levine has offered advice on this very subject—including what to do when maids of honor mistreat other bridesmaids and what a bride who wanted to outright fire her bridesmaid should do.
Levine herself encountered her own bridesmaid blowout; when she planned to get married, decades ago, her best friend planned her wedding for the same day. "I felt devastated. She was the person I wanted to be my maid of honor; she was my closest friend," Levine says. "We didn't speak for many years." Though they eventually reconciled, it goes to show that just how commonplace such conflicts can be. Here are some tips to help keep your friendship intact:
Talk About Finances Upfront
One of the most commonly cited points of tension between brides and bridesmaids is about money.
Aminatou Sow, a senior digital media manager at Home Front Communications in DC, was a bridesmaid in an extremely over-the-top wedding during her freshman year in college—a time when she was particularly low on funds. The bride expected her to spend $800 on the dress and $200 on the shoes in addition to elaborate hair and makeup routines. "I bounced a check for the first time, and I was mortified," she says.
"A possible fix is to have a discussion with the bridesmaid about what the bride is expecting of them when she's asking them to be in the wedding," Levine advises.
And tough economic times might mean that bridesmaids who commit to the role initially may encounter a change in financial situation. One ex-bridesmaid says that though she loved her friend, she felt the whole affair became too extravagant for her—especially when she lost her job.
"I'm a broke writer living in New York City, and to top it all off, I got laid off in the middle of the whole process," she writes in an e-mail. "Suddenly having spent $180 on a dress, two gifts, and travel was giving me panic attacks. When she told me that the hotel I was expected to stay at—where the wedding was held—was $200 a night, I nearly fainted. I hit reply to the e-mail and sent a one-liner that basically said, 'I can't afford that!' "
"Don't wait until the last moment. If you know you can't financially participate, be upfront," says Jodi Moraru, a wedding planner and the president of Evoke. "Just say, 'This is too stressful for me.' But a lot of people hold on to the information until they explode."
Moraru suggests that if a bridesmaid needs to back out for financial or other reasons, the bride should still try to find another meaningful way to include her in the wedding. For instance, Moraru says, the Jewish tradition of holding the chair for the bride during the chuppah can be just as meaningful as the bridesmaid role but without the extra cost.
Know When to Keep Your Mouth Shut
Wedding planning is a stressful time for many brides, who may be dealing with family conflicts as she plans the big day. Moraru says bridesmaids themselves can help to mitigate some of the tension. All too often, she notices that bridesmaids complain once a dress is chosen. "Don't complain, just don't," Moraru says. "If there's a problem because of cost, that's a conversation that needs to take place." Otherwise, she says, bridesmaids are better off keeping quiet about objections to the color or style.
Remember Life After Engagement
Ultimately, though money is a big factor in such conflicts, disagreements can arise out of jealousy, thoughtlessness, or a number of other factors. "Big fights break out. It happens, it definitely happens," Moraru says. And it's common for bridesmaids to claim they need a "break" from the bride after a wedding. "It's very important for brides to remember that there was a life before engagement, there will be a life after engagement," she says.
Levine agrees: "It'd be nice if the bride can look forward to the relationship after the wedding. Bridesmaids, particularly if single, may worry it will be the demise of a friendship."
And planning for that after-wedding friendship is important. Levine suggests making plans outside of wedding-related activities and making sure that the bridesmaid gets along with the groom as well. In the end, the wedding isn't just about the wedding day. It's about the bride building a life, and friendships are very much a part of that. "Female friendships are really important to your life. They make you happy. You need that kind of balance," Levine says.
Subscribe to Washingtonian
Follow Washingtonian Bride & Groom on Twitter
More>> Bridal Party Blog | Wedding Guide | Wedding Vendor Search