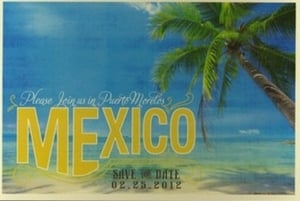 Last time, I left you hanging right at the point where Nate and I were about to fly to Mexico to find a venue. My last-minute, panicked research paid off. When Nate and I entered the grounds of Ceiba del Mar, we knew instantly that we had found the ideal resort for our wedding. It was everything we had hoped for: great spa, secluded beach, perfect outdoor locations for the ceremony and reception, and, at just 88 rooms, an intimate size. We took a tour of the place, tasted the food, negotiated room rates for our guests, and signed on the dotted line.
We had found our venue on the second day of our five-day trip. But now that we had an official wedding date, I had another project to tackle: save-the-dates. My plan was to find cute old postcards in the town of Puerto Morelos, where Ceiba del Mar is located, to use for our save-the-dates. Unlike the nearby destinations of Playa del Carmen and Cancun, Puerto Morelos remains largely untouched by tourism. It's a sleepy fishing village, with a few hole-in-the-wall shops, a grocery store, a couple amazing seafood restaurants, and a town square where the local kids play soccer. I found exactly what I was looking for in one of its tiny shops: a basket full of dusty postcards that looked like they hadn't been touched since 1985. So vintage! So shabby-chic! And practically free! I was thrilled.
Apparently, nothing clouds my judgement like the high of scoring a great bargain—because I am not crafty. I find Martha Stewart cold and off-putting. I think glitter is a nuisance. I'm just not a Do-It-Yourself kinda girl. But that seemed like a negligible detail. So I toted my postcards home to DC, ordered a custom rubber stamp with our wedding date, and spent way too much money on ink pads and who-knows-what-else at Paper Source in Georgetown. I then proceeded to torture a perfectly adorable postcard into something that I can only describe as a second-grade art project. I read somewhere that your save-the-dates are your guests' first impression of your wedding. If that was true, sending these out would be like showing up to a job interview in a Halloween costume, holding a coloring book instead of a resume.
My failed DIY project led me to Etsy—which I quickly learned is where non-crafty people can buy things from crafty people, and subsequently appear crafty themselves. Sure enough, I found a vendor on the site who specializes in designing vintage-looking postcard save-the-dates. Ginger, the owner of Serendipity-Beyond Design, created the awesome save-the-date pictured here—and saved me from humiliation.
The postcards I bought in Mexico won't be a total waste. I only ruined a couple of them, so I'm thinking of sticking the rest in the welcome bags we'll give our guests when they arrive at the resort. But I did learn a valuable lesson: no more arts and crafts for me. Still, in the right hands, I think my DIY postcard project could be really cute for a destination wedding. Maybe one of you can do it justice.