Kendra and Brent first met while working summer jobs at Clyde's in Reston—she was a hostess, and he was a part-time server.
"Brent would come up to the hostess stand and flirt with me during our shifts," says Kendra.
Brent proposed in December 2010 during the pair's annual visit to the National Christmas Tree in DC. Brent offered to take a photo of Kendra in front of the tree if she took one of him.
"As I was about to take his picture, he spun around and pulled out a sign," she says. "It said, 'You are amazing just the way you are.' As I looked at the camera screen, Brent whipped out another sign and told me to take another picture. The sign said, 'Will You Marry Me?', and shortly afterward, Brent got down on his knee! I couldn't believe it was actually happening."
Eight months later, on August 14, the Arlington couple married at Thomas Birkby House in Leesburg.
"The two must-haves for our wedding venue were a historical house—because I was a history major in college and I love the architecture of the DC area—and a tent," says Kendra. "The Birkby House was actually the first venue Brent and I looked at, and we both loved it right away."
They kept things casual, deciding on an "elegant picnic" theme. "I wanted baskets, fruit and cheese platters, burlap, pies, and fried chicken," says the bride.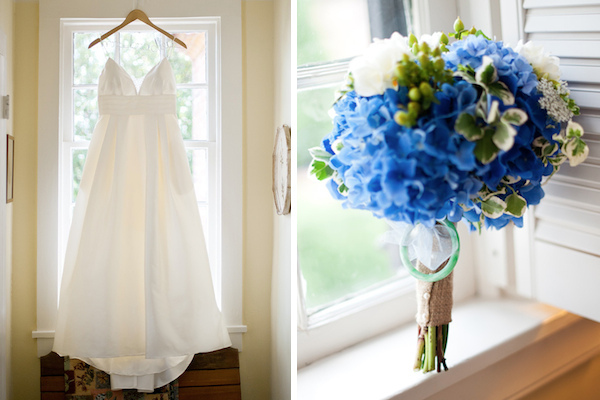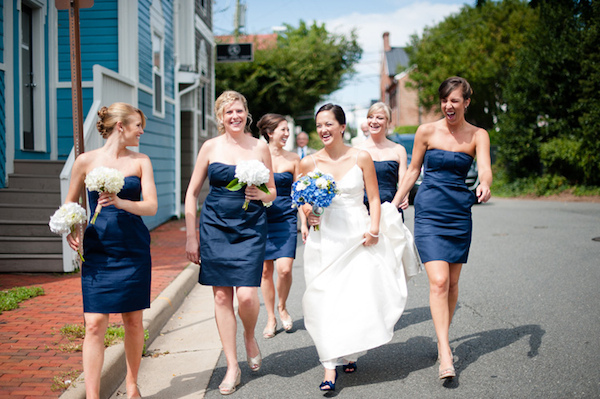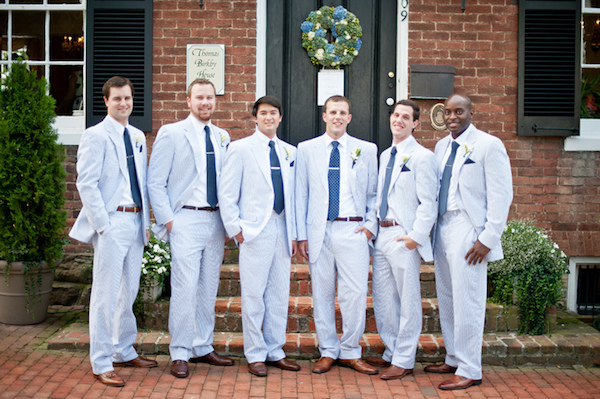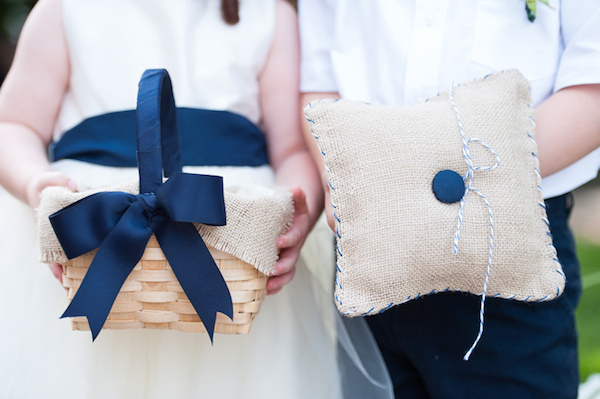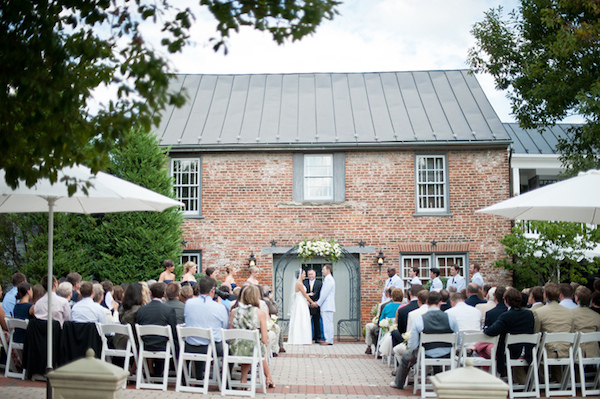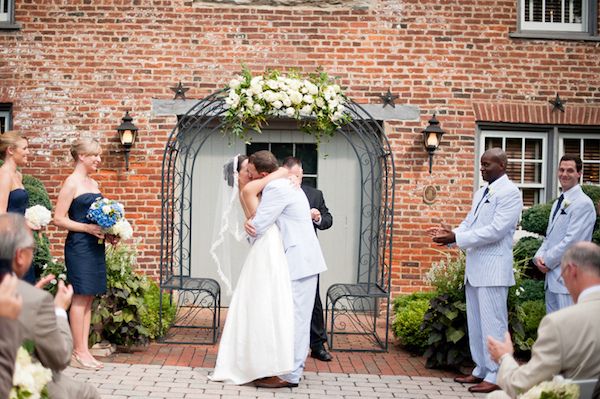 The afternoon wedding was held outdoors; the couple wed under an arch bedecked with roses, raffia, and ivy. Brent and Kendra wrote their own vows and didn't share them with each other until the ceremony.
"Some of the highlights were that I promised our lives would be filled with laughter, joy, music, and adventure, and [that I'd] listen to Brent when he was clearly being the rational one," says Kendra. "Brent promised to eat with me when he's not hungry, nap with me when he's not tired, and always follow me when I ask him to leave me alone."
After the ceremony, the 143 guests enjoyed a cocktail hour featuring a fruit and cheese platter, bruschetta, Virginia ham biscuits, and signature drinks created by a family friend—a watermelon cocktail called the "Pucker Up," and "Arnie in the Rye," a bourbon, lemonade, and iced tea concoction.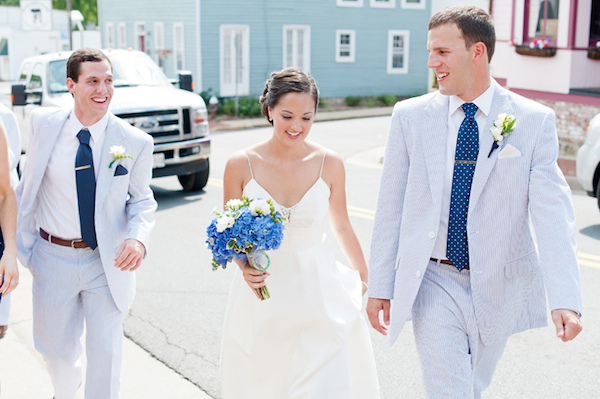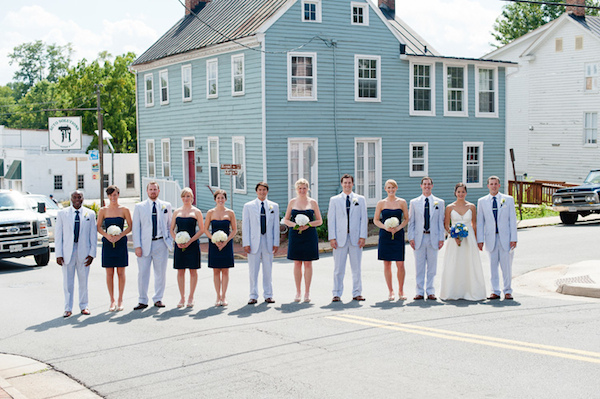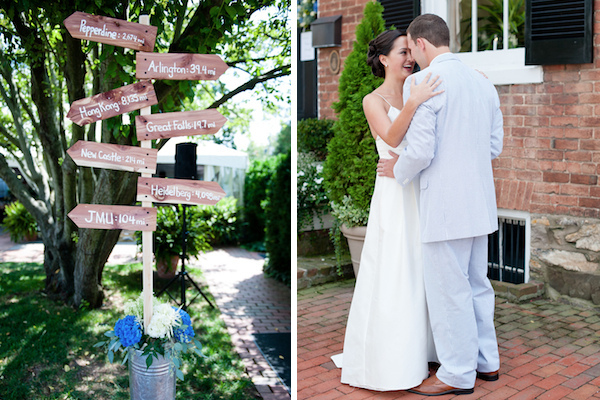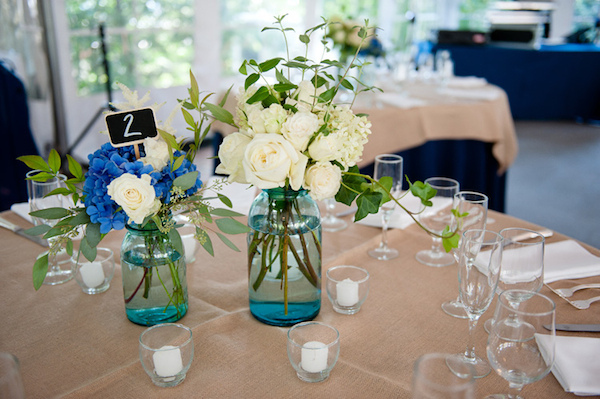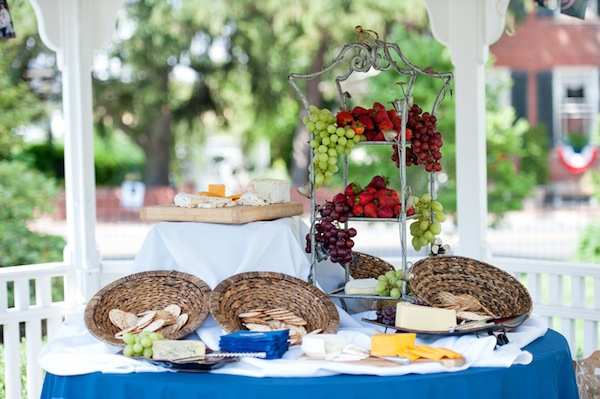 The tented reception featured floral arrangements of hydrangeas, spray roses, and ivy placed in blue Mason jars that belonged to Kendra's grandmother and Brent's mother. "We wanted the centerpieces to have a natural, handpicked quality," says the bride.
A buffet meal of beef tenderloin, orzo with pine nuts—and yes, fried chicken—was served. The couple cut a small carrot cake (Brent's favorite), and a variety of pies were served for dessert.
Kendra and Brent performed their first dance to "The Way You Look Tonight" by Tony Bennett, and everyone danced to a mix of tunes. "We had a great mix of young guests and a fun-loving middle-aged crowd," says Kendra. "The dance floor was busy most of the night."
As gifts, guests received s'mores kits—cellophane bags filled with graham crackers, a small skewer, a marshmallow, with a navy tag that read, "Kendra & Brent: S'More Love."