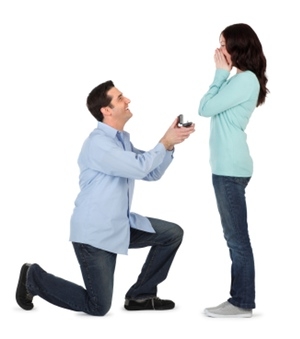 Maybe it's the eggnog talking, but something about the holidays just makes us want to snuggle up with someone we love. And if you're ready to turn kisses under the mistletoe into a full-blown commitment, why wait? The holiday season has a romance all its own.
We asked three of our favorite wedding planners to put together an insta-proposal guide in case you're considering an engagement ring as the perfect holiday gift.
If you're ready to pop the question right now, use these agendas to get inspired:
1) Cindy Bastron of A. Dominick Events
The ring: Boone and Sons, with locations in downtown DC, Chevy Chase, and McLean. "They're very accessible to everyone and have wonderful customer service," she says.
The proposal: Two season-specific plans—Zoo Lights at the National Zoo, or the skating rink at the National Gallery of Art's Sculpture Garden. For a backdrop that's impressive year-round, try the Roof Terrace Restaurant atop the Kennedy Center. "There's a balcony with amazing views of the city at night," Bastron says. And if you can, bring along a photographer to take photos of the actual engagement, even if it's just a friend with a point-and-shoot ready to pop out from a hiding place after she says yes.
The celebration: Bastron recommends heading to either Off the Record at the Hay-Adams Hotel or Adour at the St. Regis for a post-proposal drink (and even inviting family and friends to share in the excitement). She says these places have the right romantic ambience but rarely require reservations.
The extras: Try to book a night at the Jefferson, one of Bastron's favorite spots in the city. And schedule a manicure for her for the next day. "Everyone will be checking out her ring, so her hands should shine," Bastron says. Then, gather friends and family for a celebratory day-after brunch.
2) Terri Eaves of Bash
The ring: Tiny Jewel Box in downtown DC. "They have a great selection, and are more likely to have something on hand," Eaves says.
The proposal: From here, Eaves has two ideas depending on how much you'd like DC's monuments to be a part of your marriage proposal.
If you're not intimidated by popping the question in front of shrines to some of America's greatest men, she recommends grabbing a ride in a pedicab while touring the Mall. Otherwise, a quiet corner of one of Old Town Alexandria's cobblestone streets provides the right mix of romance and scenery.
The celebration: In the District, try for day-of reservations at très romantique Marcel's or opening a well-deserved bottle of vino at Capitol Hill's Sonoma wine bar. For an Old Town celebration, Eaves says it's sometimes possible to get same-day reservations at Restaurant Eve or Il Porto.
The extras: Don't forget flowers! Greenworks in Tenleytown and Helen Olivia in Old Town both have storefronts, which gives you faster access to a bouquet.
3) Laura Weatherly of Engaging Affairs
The ring: Weatherly is also a fan of Tiny Jewel Box, but she has a last-resort option for a guy who can't get to the jewelry store but can make it to the nearest CVS. "I know a guy who used a candy ring in place of the real ring to come," she says. Keep in mind: This might backfire if your girlfriend doesn't have an oversize sense of humor and a little patience.
The proposal: Weatherly also urges roping in a photographer, no matter how amateur, to document the event. If you can get a professional, she loves Juan Carlos Briceño (full disclosure: he's her husband), Eli Turner, or Jennifer Lust. As for the location, she says a hotel is the way to go; they'll normally help you out if you let them know you're trying to put together a proposal. Her favorite is the Willard InterContinental, especially if you can book a night in the honeymoon-approved Jenny Lind Suite.
The celebration: Weatherly says in the proposals she's seen at hotels in the past, once the bride said yes, the entire hotel staff (and gawking onlookers) burst into applause. She recommends having a bottle of Champagne ready to go for this moment.
The extras: Weatherly says the sweet expressions and excitement on a newly engaged couple's face are important to capture, so arrange for your photographer/camera-equipped buddy to take some shots of the two of you in front of DC monuments.