This page describes the contents of an issue of Washingtonian magazine. Subscribers get exclusive early access through our print and digital editions. Most of our feature stories are later published online and linked below.
Buy a Single Issue
Subscribe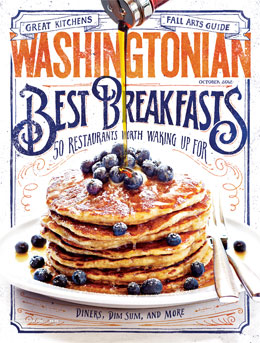 Volume 48, Number 1
Cover Story
Breakfast may be the most important meal, but we like to think of it as the most fun. When else can you have bacon on your plate and in your Bloody Mary? Whether it's a special-occasion splurge, a diner fill-up, or dim sum, here are our critics' picks of more than 50 of the best breakfast and brunch spots.
Black Market Bistro's buttermilk pancakes photographed for The Washingtonian by Scott Suchman. Food styling by Lisa Cherkasky. Hand-lettering by Jon Contino.
Features
A guide to the season's not-to-be-missed shows—plus the man who's trying to change local theater, the area's next arts hub, turning Hemingway into ballet, and more. By Sophie Gilbert
As the US Attorney for DC, Ronald Machen has made rooting out public corruption a top priority. He's already taken down two DC Council members. Now he has the mayor in his sights. By Marisa M. Kashino
Ruth Bader Ginsburg learned to love music and theater as a child in Brooklyn. Still a huge fan of the arts, the Supreme Court justice has become a fixture on Washington's theater scene—even appearing on one of its most celebrated stages. Marisa M. Kashino
One evening in the Maryland suburbs, a man was gunned down. No one knew who did it. Thus began three weeks of mysterious sniper attacks that petrified the region. Ten years later, survivors, victims' loved ones, police, doctors, and others look back on the month when fear ruled Washington. By Alicia C. Shepard
Capital Comment
What you need to know about the Nats now . . . Prepping for the presidential debates—and the Washingtonian who jump-started the process . . . A Cinderella story . . . Inside a haunted forest . . . What's next for Homeland? . . . Decoding DC.
Anatomy Getting Nats Park ready for play.
Behind the Scenes TWA 800's resting place.
Party Pictures & Benefits Welcome, Redskins; farewell, diplomat.
Where & When
Portrait-photography greats at NGA . . . The Pearl Fishers at GMU . . . Ireland's Druid company at the KenCen . . . Patti LuPone at Strathmore . . . Ted Leo, Aimee Mann at the Birchmere . . . Dance, food, arts, beer, and music festivals around town.
I.Q.
What I've Learned Writer Frank Rich on his Washington childhood: "Theater saved my life."
Washington Read The story of a historic sex-discrimination suit; Evan Thomas on Ike.
Profile John Delaney, party crasher.
What Made Me Michel Martin on family tragedy.
Life
Be Jeweled The look of the season: Make a colorful statement with bold accessories.
Autumn Leaves Five great getaways that offer fun amid the foliage—at falling prices.
Dealing With Cancer How to choose your doctor, websites you can trust, advice from survivors, and other resources that can help.
Taste
Dining Out Menomalé's Neapolitan pies are giving top pizza places some serious competition.
Home
Where the Heart Is Five beautiful kitchens where families cook, eat, gather, and entertain—plus experts who can create your dream kitchen.
Best of Rockville An outdoor ice rink, shops, restaurants, Metro—city living in the suburbs.
Real Estate How much a month? Here's a look at eight recent luxury rentals—what you can get where for $2,000 and up.
Luxury Homes LivingSocial CEO Tim O'Shaughnessy sells for $1.2 million.
Pets The world can be a scary place for pets, who might need expert help to curb their anxiety.
First Person Holding hands with Nancy Pelosi, handling celebrity demands, dishing about the President, and other secrets of the green room.