Wendy Tsao and Joseph Friese's relationship began like something out of a rom-com. The pair, both tax accountants, met while working for the same firm in San Francisco. Despite numerous nudges from friends and coworkers, who sensed a spark between the two, and countless nights of hanging out in groups, Wendy and Joseph for months adamantly declared they were "just friends." But one night, as the two were leaving a bar, Joseph spotted an open party bus with people celebrating inside. In a moment of spontaneity he hopped on, dragging Wendy behind him. In the ensuing fun, their chemistry could no longer be denied, and they decided to begin a romance.
It took them a similarly long time to get engaged—not that either minded the wait. After "seven years of bliss" and a relocation from San Francisco to Washington, Joseph came up with the perfect proposal: He would ask for Wendy's hand at sunrise on the rooftop of the W Hotel, which has expansive views of the DC skyline. Under the pretense of his brother being in town for a short layover, he coerced Wendy, an ardent night owl, to wake up at 7 AM on a Saturday. "I tried to get out of the early appointment several times the week before, but he was insistent that I be there," says Wendy.
When she arrived bright and early at the P.O.V lounge at the top of the W on a cold morning, she found a single table set up for breakfast. "The sun started to rise, and that's when I saw Joe walking toward the table. I still had no clue at that point what his intentions were, but he looked very serious," says Wendy. "He knelt down on one knee and proposed." Joseph had a few more surprises up his sleeve. After breakfast, the couple indulged in a spa appointment, and had brunch with family and friends at Tabard Inn and dinner at Komi. An intimate wedding, full of personal details and heartwarming touches, followed . . . a mere 17 months later.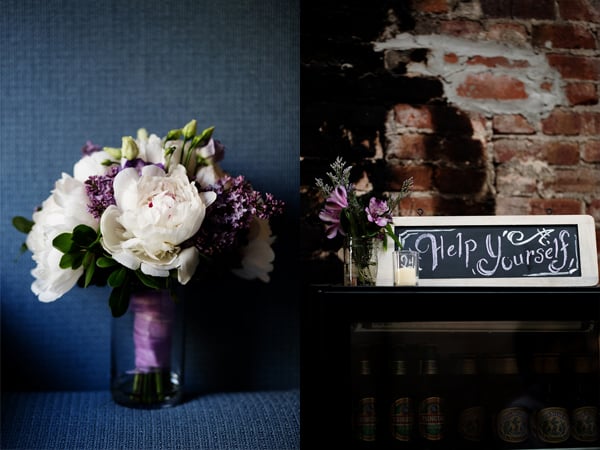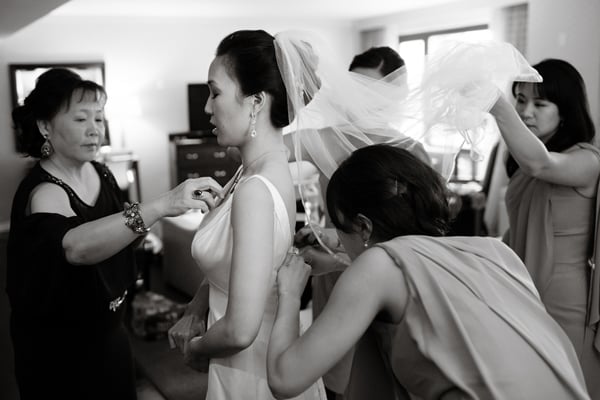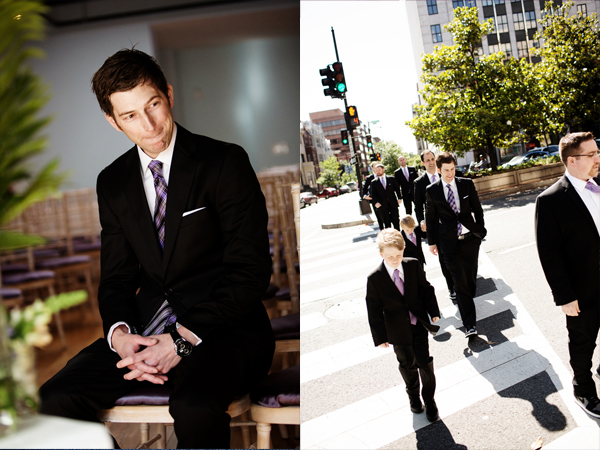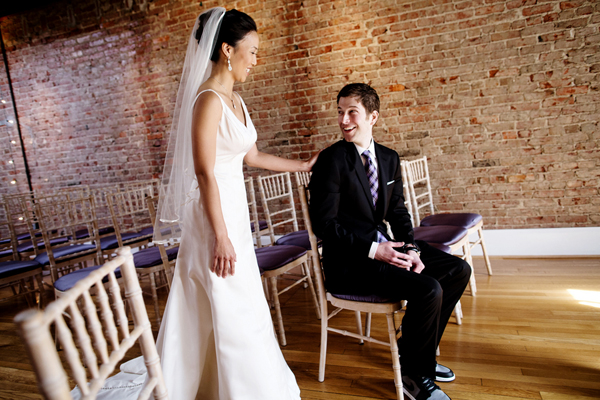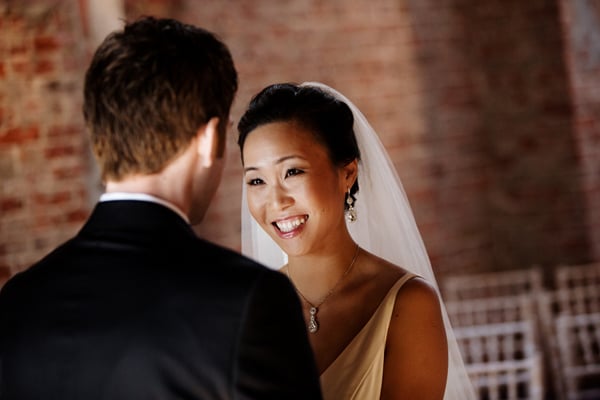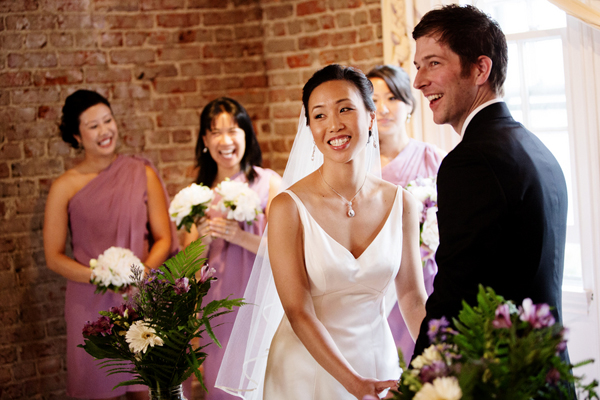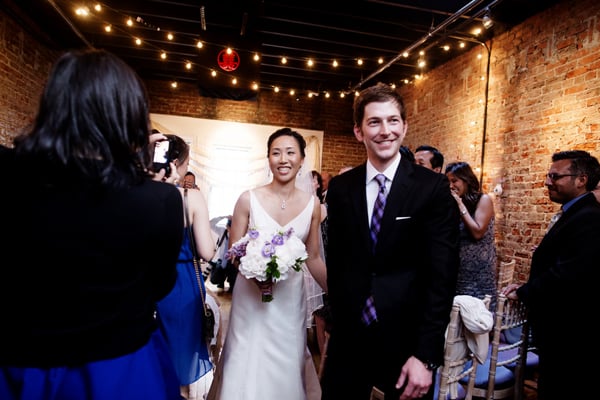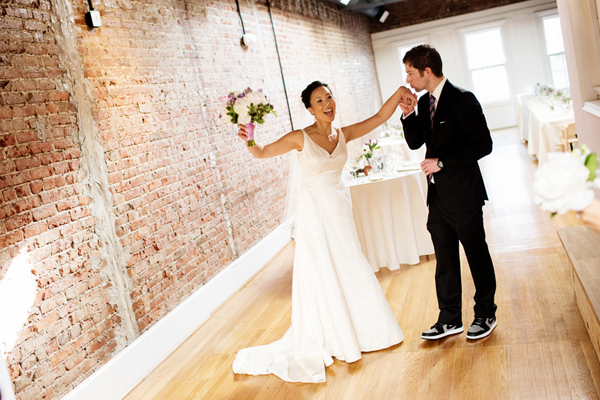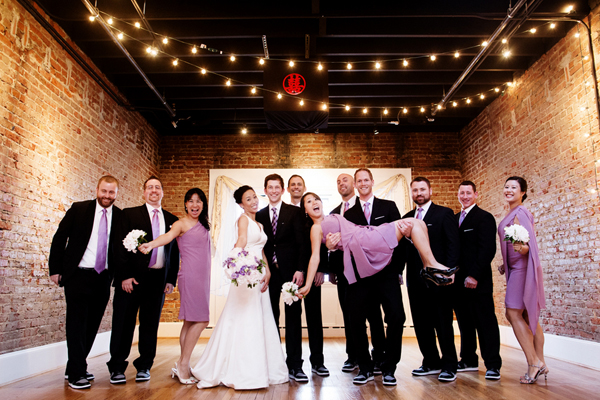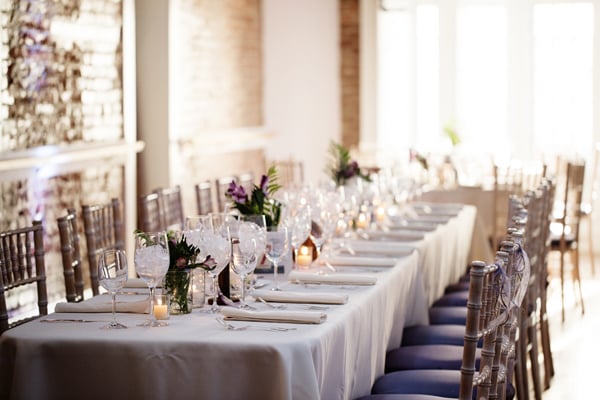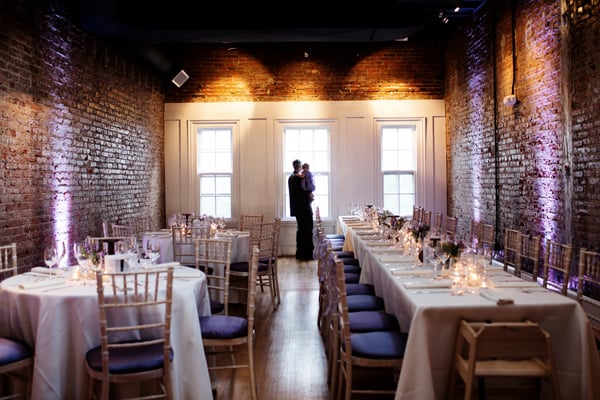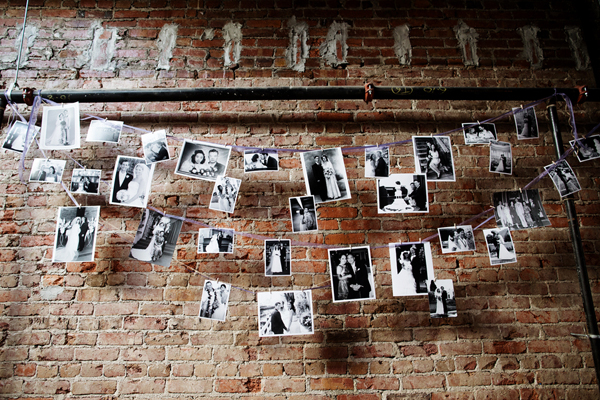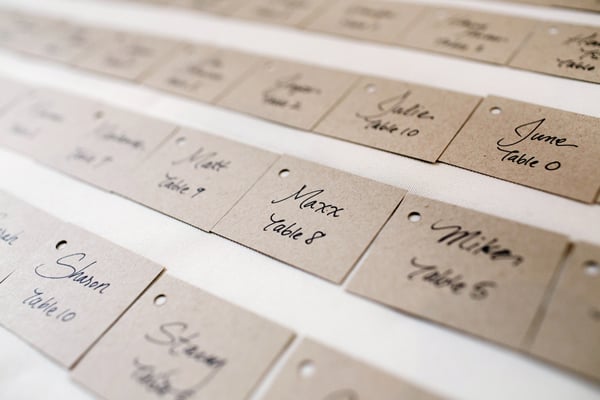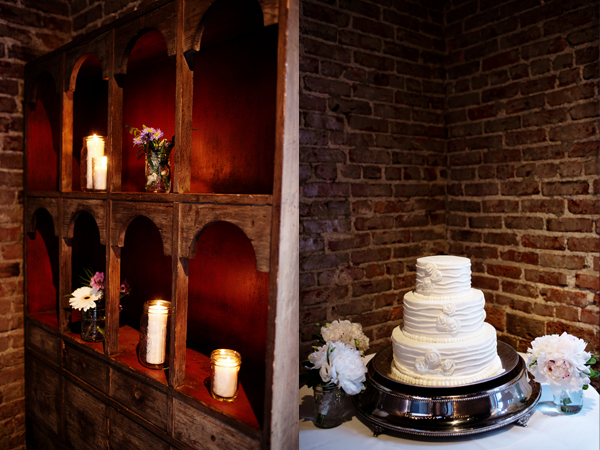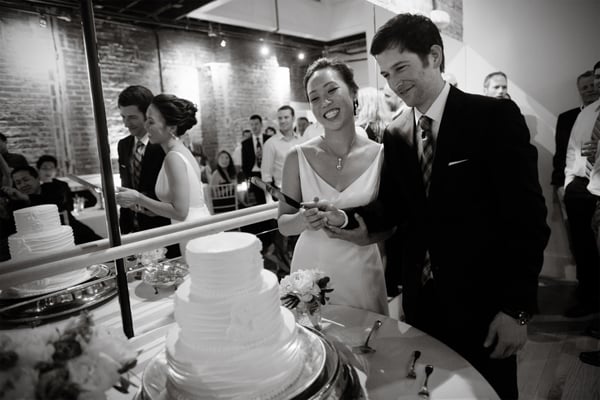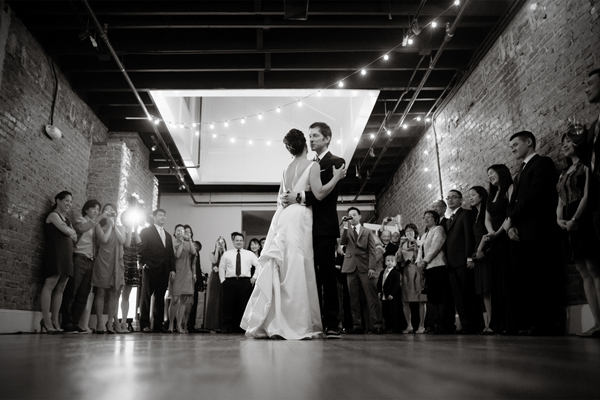 Details:
Photographer: The Happy Couple Photography
Wedding Venue: Epic Yoga DC
Event Coordinator: Aleisha Butler
Bride's Gown: Marisa, Brides Against Breast Cancer
Groom's Tux: Ermenegildo Zegna, Saks Fifth Avenue
Hair: Mindy Isern, Up-Dos for I Do's
Makeup: Sara Lawrence, Up-Dos for I Do's
Caterer/Cake: Palate Pleasers
Wedding Cake Flavors: Yellow cake with Italian buttercream and almond cake with almond brittle buttercream
Wedding Cocktail: "We didn't have a signature drink, but we wanted to get beers brewed from places that had meaning to us. We met in San Francisco, so we had Anchor Steam, then we moved to DC together so we had DC Brau, and last, I'm Chinese so we brought in Tsingtao," says Wendy.
Florist: Allan Woods Flowers for the bridal bouquet; DIY centerpieces
Wedding Flowers: Peonies and purple nosegays for bridal bouquet; snapdragons, daisies, asters, limonium, and alstroemerias for centerpieces
Music/Entertainment: DJ Stew Pumphrey, Everything Entertainment
First Dance Song: "Fields of Gold" by Sting
Bride's Favorite Wedding Detail: The wall of wedding photos of the couple's family and friends. "We're one of the last in our groups of friends to get married, so we've been to most of the weddings in those photos. It's always fun to see people on one of the happiest days of their lives."
Groom's Favorite Wedding Detail: Nike Jordan sneakers he got to wear during the wedding
Biggest Surprise of the Wedding: "We picked the theme song from the Disney movie Up as our recessional music because we loved the movie. The couple in the movie kept an 'adventure book' to document their memories together. Joe surprised me before the wedding with our version of the adventure book with pictures and stories about how he cherished the many adventures we had during our eight years together and then our plans for the rest of our lives," says Wendy.
Wedding Favors: The groom and his friends grew up playing and watching baseball, so the couple decided to make cuff links out of old Nationals stadium seats for the groomsmen and the fathers to wear.
Wedding Theme: Upscale city-rustic
Four Words That Describe the Wedding: "We joke because of all the time, preparation and expense that went into it, but it would be, 'Thank God it's over!'"
Invitations: Priscilla Eastman, a family friend
Honeymoon Spot: Thailand
Where They Currently Live: New York City