This page describes the contents of an issue of Washingtonian magazine. Subscribers get exclusive early access through our print and digital editions. Most of our feature stories are later published online and linked below.
Buy a Single Issue
Subscribe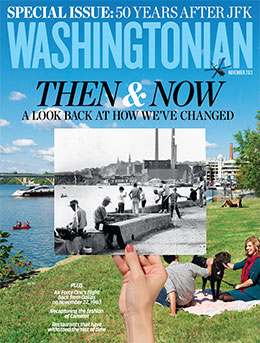 Volume 49, Number 2
Cover Story
Then & Now
In the 1960s, there was no Metro, everyone loved Hot Shoppes, and top rock acts performed at an Alexandria roller rink. Here's a look back at what's changed since then—and what's stayed the same.
Edited by Jessica Voelker
Features
Aboard Air Force One—during one of the country's most searing, perilous moments—a government was formed and a presidency began. By Garrett M. Graff
President Kennedy's call to government service still inspires idealistic, educated young Americans to join the federal ranks—only to be vilified, furloughed, or ignored. Can we create a workplace worthy of JFK's challenge to the brightest and the best? By Hannah Seligson
Capital Comment
Where & When
I.Q.