What Daniel Nakamura, owner of Booth-o-Rama Modern Photobooths, loves about photographing people is the moments they don't notice the camera, when they are purely in their element. "I thought the best way to capture people being their most real and genuine selves was to remove the photographer and put guests behind a curtain so no one could watch," says Nakamura. "I liked the concept of a traditional photo booth, but I thought just two heads squeezed together was not fun." So in 2008, he designed and created a large photo booth, equipped to fit up to 12 or 13 people, and launched Booth-o-Rama. We caught up with photo guru, who shared why a photo booth is worth the wedding investment.
Why should couples consider getting a photo booth for their wedding?
Photo booths offer the very custom party favor in my opinion—a photo strip that your guests will cherish and hold onto forever. They also provide incredible entertainment for guests, something different and fun to do when you need a break from dancing or chatting with family and friends. The photo booth will create memories for your guests and help set your wedding apart.
How are you different from other photo booth vendors in the area?
I designed our photo booth from the ground up and then had it manufactured, so you won't find another photo booth like it. The focus of the design was to have fantastic lighting that creates beautiful and flattering photos while being large enough to accommodate an entire wedding party or a group of family or friends. The other huge difference that sets us apart is our team. We have two attendants, a manager and assistant, at every wedding we work. They always dress in full suits and are extremely professional but fun. We are often told by clients that we were the single best investment at their wedding, and I know a lot of that has to do with our attendants ensuring the special couple and their guests have a fantastic and memorable photo booth experience.
What are the different options that you offer?
Our most popular option is the Scrapbook, which is our modern take on the traditional guestbook. Guests sign their names and put down their well wishes to the couple, but they also include a few pictures from their photo booth session. This becomes a timeless keepsake for the couple and something they can start enjoying immediately after their wedding reception ends.
Do you provide props or special decor for the booth?
We offer a prop box option that includes our famous flamingo. We also have a cool retro "photobooth" sign available that lights up and can match any wedding colors. The photo booth entrance curtain can also be changed if the couple wishes to better match the decor or theme.
Do you take any customization requests?
We provide a customized photo strip banner with all rentals, which often include the couple's names and date, a monogram, and a special message to guests. We also have the ability to customize the outside of the photo booth with a wrap that can transform the look of the photo booth.
Do you offer only prints, or will all the photos be available digitally, too?
All rentals include one photo strip per session printed directly from the photo booth. Clients also receive a password-protected private online gallery so guests can view all the photo booth sessions from their wedding. We don't charge for the photos; instead we allow guests to download copies of their photos for free. Clients will often enlarge the digital files and frame them and give them as thank-you gifts to family and friends.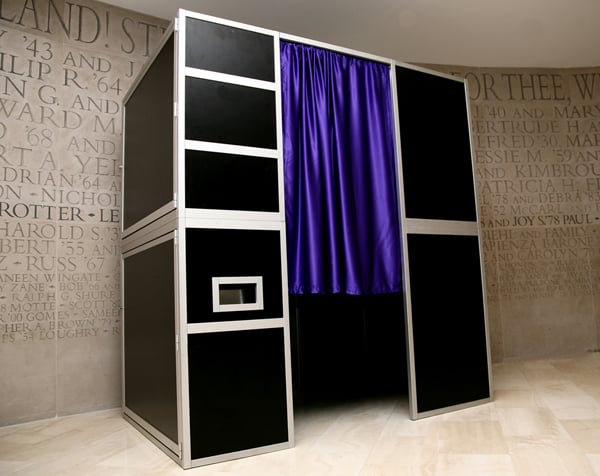 Rates start at $950 and include unlimited photo booth sessions for two hours. Each additional hour is $200.