When it comes to planning a wedding, few decisions are as delicious as choosing a wedding cake. We tapped Salamander Resort & Spa's executive pastry chef, Jason Reaves, to give us the skinny on the five most popular wedding cakes he makes. The Middleburg, Virginia, retreat is popular not just for its bakery, but also for its scenery—it sits on a beautiful tree-lined road with views of the Bull Run Mountains.
To go with Reaves's top five cakes, we asked David Greenhill of nearby Greenhill Winery to select a wine that best suits the flavors of each. See them all below, arranged by season.
For a spring/summer wedding: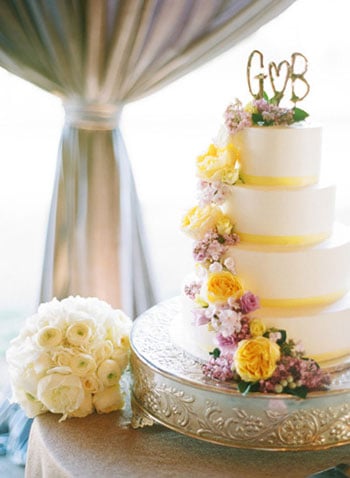 Lemon Zest cake. Photograph by Katie Stoops.
Lemon Zest
Vanilla sponge cake layered with fresh raspberries and zesty lemon curd
Pair it with: 2009 Greenhill Sparkling Blanc de Blancs
"The Greenhill Sparkling wine is made with 100 percent Chardonnay. It's produced in the traditional Méthode Champenoise fermented in stainless steel, and aged for 22 months in barrels before undergoing its second fermentation in the bottle. The creamy mouthfeel and grapefruit flavors make for a perfect balance."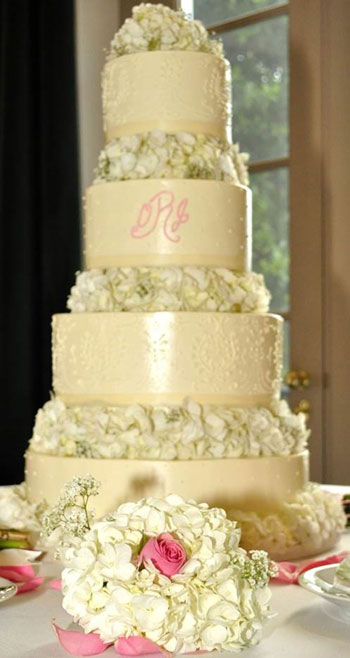 Tres Leches cake. Photograph by Salamander Resort & Spa.
Tres Leches
Vanilla sponge cake soaked in "three milks," layered with whipped cream and fresh berries
Pair it with: 2013 Greenhill Seyval Blanc
"This is a French-American hybrid grape. This wine is off-dry yet crisp and fresh, and exudes components that are perfectly balanced with a conglomerate of citrus, exotic, and stone fruit aromas. Mandarine, lychee, peach, and apricot are most apparent, with hints of almond and plumeria flowers."
For a fall/winter wedding: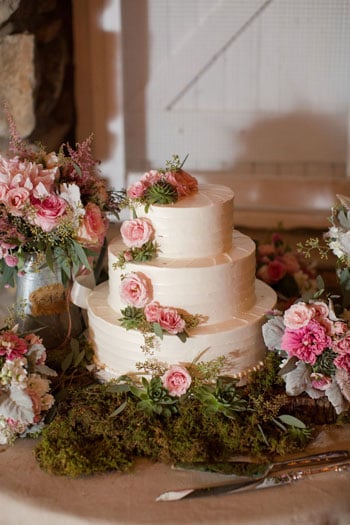 Pumpkin chip cake. Photograph by Katelyn James.
Pumpkin Chip
Chocolate chip pumpkin spice cake layered with ginger crème
Pair it with: 2013 Greenhill Viognier
"Feminine, fresh, and crisp, the stainless steel-fermented Virginia Viognier, with its pale-gold color, expresses aromatic fragrances of wild flowers, jasmine, and crème brûlée. On the palate, flavors of apricot, peach, and a tinge of lemongrass are rounded out by raw honey notes and baking spices with an intense, long finish."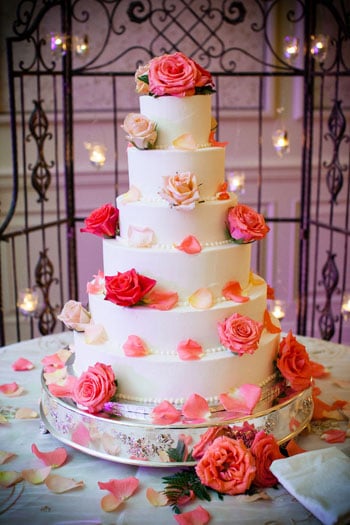 Caramel Apple cake. Photograph by The Observatory.
Caramel Apple
Apple spice cake layered with cinnamon buttercream and sea salt caramel
Pair it with: 2013 Greenhill Chardonnay
"This wine is aged for 11 months in French oak before seeing the bottle. Aromas of hazelnut and brioche toast linger with light buttery notes and flavors of pineapple, fig, and apple. The enriched mouthfeel and texture is persistent and refreshing."
For a wedding any time of the year:
Reaves's Nutella Cup
Devil's food cake with Nutella (chocolate-hazel­nut) crème and dark chocolate pearls
Pair it with: 2010 Greenhill Philosophy
"This rich, dark, and bold wine exudes strong aromas of wood, earth, and tobacco. Philosophy's flavor profile is musky and rich, with strong tannins, structure, and roundness of body that bestows a smooth, long finish."
Find Valeria Boucas on Twitter at @valeriaboucas.