This page describes the contents of an issue of Washingtonian magazine. Subscribers get exclusive early access through our print and digital editions. Most of our feature stories are later published online and linked below.
Buy a Single Issue
Subscribe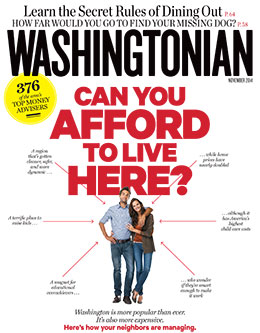 Volume 50, Number 2
Cover Story
How Much It Really Costs to Live in Washington
The area is more popular than ever. It's also pricier than ever. A report from the land of sticker shock.
By Joseph Guinto with Ari Pinkus
Features
Have You Seen Havoc?
Janet Mihalyfi lost her dog. Twelve months, one car chase, $35,000, and a whole lot of haters later, she's still looking for him. By Marisa M. Kashino
The New Rules of Dining Out
No reservations. Strange policies about Instagramming. Eating out in Washington has never felt so exciting—or bewildering. Here's our guide to making the most of your culinary dollar. By Todd Kliman, Ann Limpert, and Anna Spiegel
Top Money Advisers
375 of the area's best financial planners, estate attorneys, tax accountants, and other financial experts. Plus: why Washingtonians are bad investors. By Sherri Dalphonse
Capital Comment
Where & When
I.Q.