Makeup artist Johny Saade and hair stylist Christophe Saluzzo give their expert advice on planning your beauty routine for the big day.
Q You've worked with everyone from Olivia Wilde to Christina Hendricks to Kate Walsh. How do you advise brides to think about their wedding-day look?
A Johny: Keep in mind that trends are great for inspiration, but trendy makeup should be left on the runway or in a magazine. I always work with brides to enhance what they naturally have, making their best features stand out. And there's nothing wrong with a bride doing more than one look: one for the ceremony and then something more dramatic for the reception.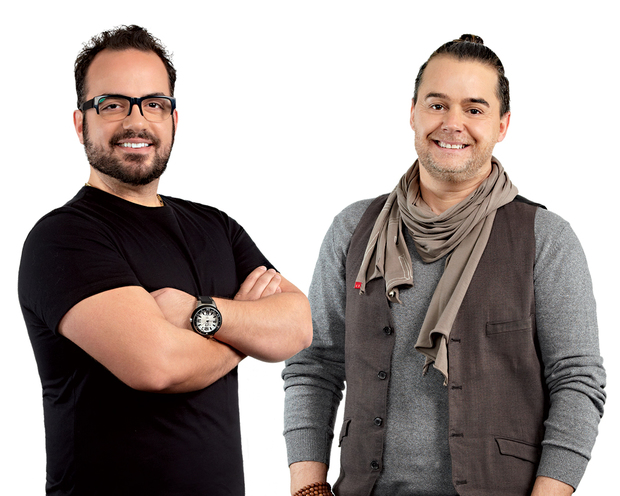 Q What are your secrets for flawless makeup?
A Johny: If you have great skin, your makeup will look even better. I always advise brides to budget some time and money for a good series of facials to get skin in tiptop shape for the big day. Also, false lashes are a must. Don't fear the stigma—you're not going to look like a drag queen! There is an amazing range of styles and sizes, from small clusters to natural-looking strips; a good makeup artist will figure out what is best for you.
Q Wedding days are long days — how can a look stay put?
A Johny: One good tip is to make sure to moisturize and prime your face before applying foundation. Also, a good setting spray at the end of makeup application will hold everything in place and help the look go the distance. Finally, make sure you have a powder puff for blotting, as well as your lip products (liner and color), on hand for touchups every couple of hours.
Q You and Johny often work together. How do you arrive at the right hairstyle for a bride on her wedding day?
A Christophe: First and foremost, she needs to consider how formal, or informal, her celebration will be. Having hair up is by no means mandatory. She can wear it down with a loose wave, in a faux bob with hair tucked up, or in a soft, pulled-back romantic style with accessories. Just try to avoid the most trendy look, because 20 or 30 years down the road, it might not hold up in photographs.
Q What are you loving for bridal hair these days? A trend that you think defies time?
A Christophe: I am noticing very ethereal and romantic loose styles that incorporate the use of natural materials, such as flowers or ribbons. The main thing is that the hair match the theme of the day, and the feel of the wedding itself. You want your stylist to give some thought to the overall start-to-finish of the events. The location, the theme, the dress, the makeup—all of this will come together to make a bride feel the most beautiful.
Contact Johny and Christophe:
christopheandjohny@yahoo.com