1326 14th St., NW; 202-588-5889
In this age of the pop-up restaurant and the speakeasy restaurant, it's inevitable we'd also have the restaurant within a restaurant. From the outside, and even from the inside, this is a sushi spot called Tsunami. But what's most exciting is the menu of dishes from northern Thailand, the culinary terrain explored so successfully by chef Johnny Monis at nearby Little Serow. The kitchen at Baan Thai, as the nesting doll of a place is called, lacks the endowments of a James Beard Award–winning chef, and it also can't match the fanatical commitment to delivering precision on the plate every single time. But the best half dozen or so dishes—including vermicelli with chili-peanut sauce and crispy rice cakes with ground chicken—seduce you with complex, exhilarating tastes that never stint on heat or sourness. Leave room for the kanom krok, magical little half-moon pancakes filled with coco-nut custard.
Also good: Pork curry; "pork picnic"; beef curry noodles; green curry with fish ball and eggplant; khao soi;tapioca balls with ground chicken.
6395 Seven Corners Center, Falls Church; 703-533-9480
Years ago, diners had to request the "secret" Laotian menu to avoid ho-hum Thai fare at Bangkok Golden. Though chef Seng Luangrath's flagship restaurant still serves both, there's no need to be coy—the kitchen openly offers its fiery, herbaceous larbs (minced-meat salads), fragrant lemongrass-laced stews, and excellent fish steamed in banana leaves with chilies and dill. The lineup doesn't change as often as at sister restaurant Thip Khao, but keep an eye out for specials like spicy fried mackerel and sun-dried pork. Seeking heat? Insist on "Lao hot," as the menu says, and quell the fire with a cold Beerlao.
Also good: Crispy-rice salad; spicy pork sausage; kao piak sen soup with ginger, chicken, and house-made noodles; grilled marinated pork; bua loy (rice cake and taro balls in coconut milk).
5892 Leesburg Pike, Falls Church; 703-671-4222
The peeling-paint decor at Ed and Pookie Duangrat's Thai restaurant might be tired, but the cooking? Hardly. This is a menu full of energy and eccentricities, especially when it comes to the snacky side—we go for dumplings wrapped in lychee bulbs, buttery wok-roasted cashews, and a fiery dip of "Thai Bolognese." The kitchen is especially good with the fry basket. A winning salad features shards of crunchy catfish doused in lime juice and plenty of cilantro, while hunks of battered cod get treated to an addictive red-chili sauce.
Also good: Shrimp-and-pork dumplings; Floating Market Noodle Soup; roast pork with red curry; khao soi (chicken curry with egg noodles); coconut sticky rice.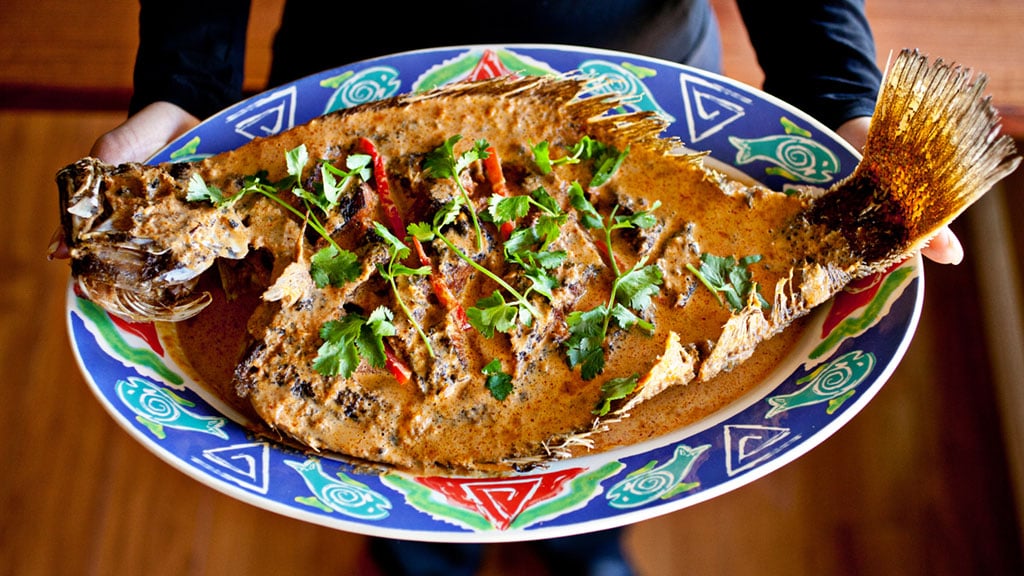 11407 Amherst Ave., Wheaton; 301-942-0075
Why is it that many diners drive from the other side of Montgomery County, or from Prince George's or DC, to eat here? It's strange to think that a hole-in-the-wall Thai place would be destination dining, but it shows what nearly two decades of remarkable consistency and a repertoire of at least half a dozen standout dishes can do. The menu is long and, stir-fries aside, strong throughout. But the most memorable eating comes from loading up on starters and salads—a crunchy, batter-dipped tangle of watercress, shrimp, squid, and onion is a must—and structuring your meal around a centerpiece item, such as the whole fried fish doused with red curry or festooned with peppers and basil.
Also good: Barbecue-pork skewers; spicy sliced duck with chili paste and lime juice; stir-fried duck with hot chilies and basil.
19847-M Century Blvd., Germantown; 301-528-1400
Blackboards advertising "Thai tapas" and local beers such as DC Brau are telling signs that this colorful restaurant has embraced a few dining trends. Thankfully, you won't find tiny portions at big prices: Minus a few flourishes, owners Fred and CiCi Hart are true to the Thai eatery's name, which translates to "relax, relax." The large menu is split between two categories—classics and street fare—with bountiful vegetarian options, including the traditional (terrific chive-stuffed dumplings) and the unorthodox (a dish called You Think It's Duck Curry). That's not to say avoid meats and seafood, whose quality shines. The must-try for carnivores: kao kha moo, a heaping platter of tender braised pork leg, pickled dark greens, fresh herbs, and a bracing black-vinegar sauce.
Also good: Sweet corn cakes; khao soi (curry noodles with chicken); spicy catfish with Thai eggplant and house-made chili paste; sticky rice with mango.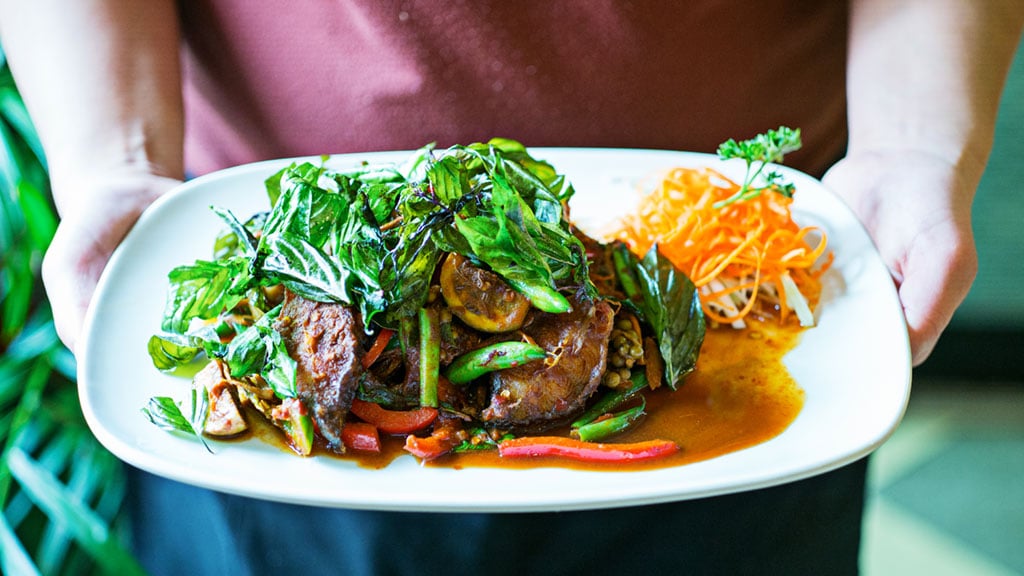 11315 Fern St., Wheaton; 301-942-0288
It tells you something that, be-fore your noodles arrive, the server brings a spice tray—four little bowls of chili sauces and chili-stoked vinegars. Well, two somethings: One, this tiny operation adjacent to a Vietnamese grocery values the particularity of the individual palate. And two, its clientele appreciates ping and heat. This is among the most uncompromising Thai cooking in the area. That doesn't just mean hot dishes are hot. It means chef Phak Duangchandr—Kob to friends and family—doesn't shy away from the spiky edges that other Thai places are intent on softening: pungency, funky flavors, tanginess. You see it in small touches (the sharp, stinging dipping sauce that accompanies skewers of grilled pork) but also simply in the range of dishes, which include many things you won't find anywhere else, such as Thai street snacks that aren't generally thought to be restaurant-ready. Kudos to Kob for recognizing that there are non-Thais out there who are thrilled to dig into the tastes that she and her family have been eating for years.
Also good: Lucky Bag (chicken-and-potato curry purses); crispy whole fish; chicken Himmapan.
See what other restaurants made our 2016 Cheap Eats list. This article appears in our May 2016 issue of Washingtonian.