It's been almost two years since Washington got word that a $10.5-million condo had hit the market. The unprecedented price was all the more surprising because of where the building was going up—not somewhere predictably luxe like the West End or Georgetown's waterfront, but downtown Bethesda.
The listing was the ultimate symbol of a trend that real-estate watchers had been nearly uniformly predicting: Increasing numbers of wealthy baby boomers would trade their 10,000-square-foot Potomac spreads for a downsized lifestyle in walkable, urbanized (but not too urbanized) Bethesda. The prognosticators weren't necessarily wrong—there's definitely a desire among empty-nesters to unload mansions on multiple acres—but making the swap for upscale condos hasn't been so easy.
"I have a new listing coming on this week in the $2-million range, in Potomac, and that's where the owners want to go: to a condo in Bethesda," says Washington Fine Properties agent Lori Leasure. The catch? "They tried to sell the house this spring with a different Realtor, and it didn't work, so I'm the second one in. Potomac is just so quiet right now."
Other Montgomery County agents tell versions of the same story. "The whole 'live urban' trend means buyers for Potomac have all but disappeared, unless the deal is really, really good," says Coldwell Banker's Jane Fairweather.
And that's a problem for Bethesda's supply of new multimillion-dollar condos.
The median sold price of condos in downtown Bethesda's 20814 Zip code has dropped by more than 9 percent this year, according to RealEstate Business Intelligence, the authority on local data. Meanwhile, homes in Potomac are sitting on the market for an average of 75 days, a 19-percent increase. The most expensive tend to linger much longer—such as an $11-million, ten-acre estate listed for nine months or a 25,000-square-footer for $9.25 million, on the market nearly two years.
Those are the kinds of houses you might want to sell before considering a $10.5-million condo.
The developer of that record-setting penthouse, Larry Goodwin of 1788 Holdings, was bullish in the winter of 2015, telling Washingtonian that he initially wanted to list the 7,300-square-foot residence for more than $12 million—that's how exceptional he believed it would be. His building, the Lauren, about three blocks from the Bethesda Metro, opened in July. The penthouse, listed since November 2014, remains available.
"We had expected a much better reception," Goodwin says today. "We thought more people would see the value in buying before it was done, knowing that they could customize it." Still, he hasn't budged on its price.
Fifteen of the Lauren's 35 units have sold, but that number includes six below-market condos mandated by Montgomery County to be affordable for buyers making 70 percent or less of the area's median income. They were priced from $170,000.
Of the nine market-rate units sold, the most expensive was a 2,647-square-foot two-bedroom that closed for $3.6 million, a staggering $1,360 per square foot. So although it's not the norm, it's not impossible to find a buyer willing to pay a significant premium in the neighborhood. (Average price per square foot in the Zip code is $440.)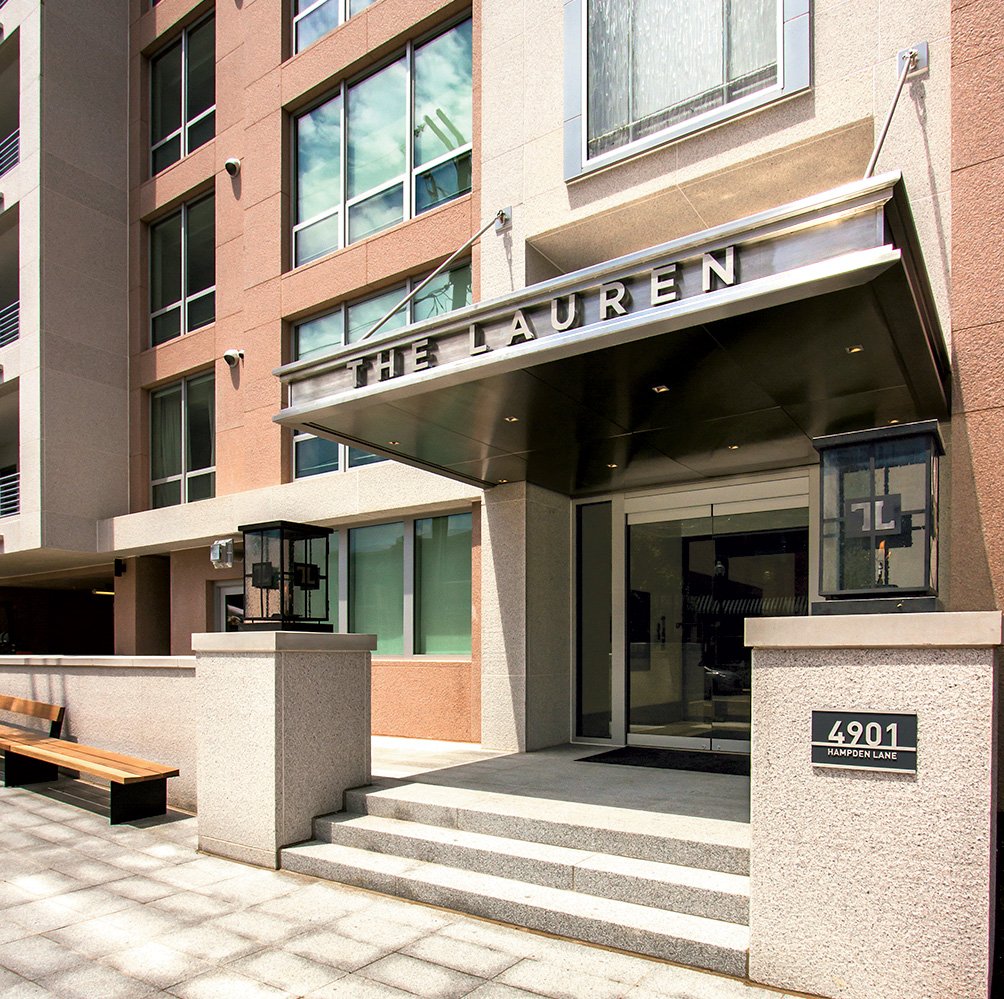 Another hurdle is that unlike Manhattan's super-rich, Washington one-percenters aren't historically accustomed to apartment living. Thus, even with a desire to downsize, many have had a tough time swallowing the logic of trading two acres for a higher-priced 2,000 square feet. "Although the lifestyle and location is desirable, the correlation of value is not there," says TTR Sotheby's Marc Fleisher.
Leasure says the clients she has most recently taken through the Lauren and another upscale building nearby, the Darcy, were underwhelmed: "The units were a little small for what they thought they'd get for the money." She adds that her buyers are also considering condos in DC, which some of them deem a smarter investment.
Unlike the Lauren—whose smallest condos start around 1,400 square feet for more than $1.2 million—the 87-unit Darcy has a wider range of sizes and prices. Open to residents for a year, it has eight remaining units for sale. The developer, Monty Hoffman of PN Hoffman, says he's pleased with how sales have gone, though he agrees that the soft Potomac market has affected downtown Bethesda.
Hoffman notes that the Darcy has been "somewhat insulated" from the trend because of its central location, close to the shopping-and-dining hub Bethesda Row. But he's also not exclusively depending on older buyers to move in. One- and two-bedroom condos from the $600,000s to the $800,000s—while still expensive at around $700 to $900 per square foot—have attracted well-heeled young professionals.
Plus, the Darcy began selling in 2013 while the building was under construction. Agents say that two or three years ago, sellers in Potomac were more willing to risk putting contracts on condos without first offloading their houses. "Now they realize word is out and their home is not going to be an easy sell," says Compass agent Gretchen Koitz.
The view from the expansive terrace of the Lauren's penthouse looks directly onto Hampden Row, a still-under-construction building with 55 condos.
Though it's not slated to open until spring 2017, about 50 percent of the Hampden Row units are sold or under contract—a solid pace. It, too, has a mix of prices and sizes. A few larger units are under contract, including one listed for $4.2 million (its closing price wasn't available by press time), but the majority of sales have been of one- and two-bedrooms in the $500,000-to-$1-million-plus range.
"We have found that many buyers of the larger residences prefer to wait until construction is further along and they can physically walk the residence before making a commitment," says Michael Duff, marketing director of Hampden Row's developer, Toll Brothers City Living.
He adds that the developer plans to start construction on another downtown Bethesda condo building next year. This one will be even bigger: 14 stories and 100 units.
This article appears in our October 2016 issue of Washingtonian.