As a young architect with Skidmore, Owings & Merrill in the 1960s, Ralph Youngren traveled from Chicago to see the new Dulles International Airport. "I had come to look at [architect] Eero Saarinen's work at the airport when I heard about this," he says.
"This" was the construction of near-by Reston, where planner Robert Simon had commissioned prominent modernist architects to design a series of townhouse "clusters."
"Everyone was talking about it," says Youngren, who kept returning to Reston to admire its buildings until 2003, when he and his wife, Ann, finally bought a townhouse there designed by Charles M. Goodman. Midcentury modern may be all the rage these days, Youngren says, but at the time, "this kind of architecture was considered far out. They could hardly sell these, it was so advanced."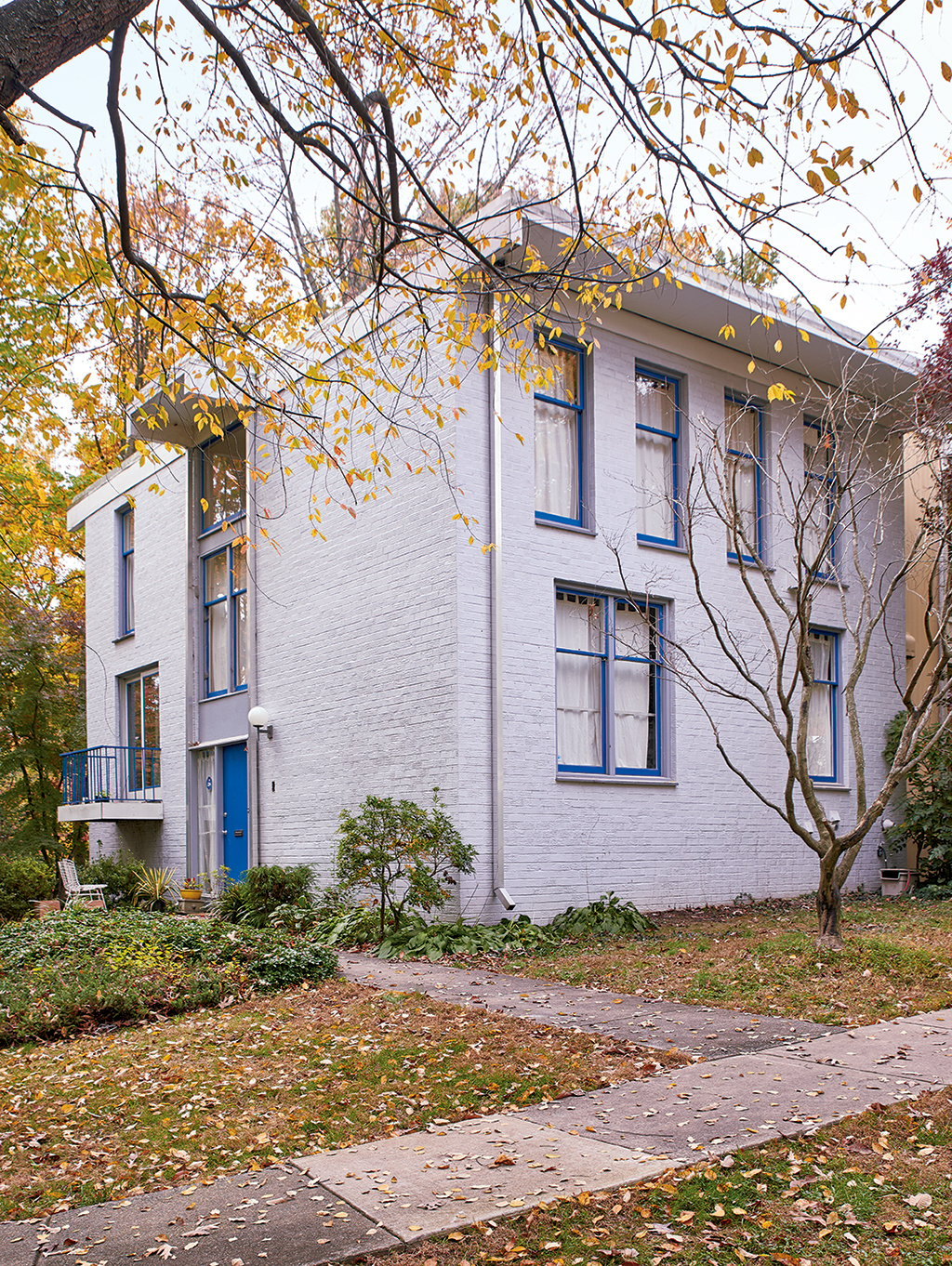 Goodman's Hickory Cluster was designed in the International style, with flat roofs, Mondrian-like geometry, and walls of glass. Reston's other clusters represent a variety of styles that were at the forefront of contemporary design in the '60s. New York architects James Rossant and William Conklin designed Lake Anne's central core in the Brutalist style, with condominiums over the shops on Washington Plaza, townhouses extending from the plaza on one side of the lake, and high-rise condos on the other. Just up the lake, DC architect Chloethiel Woodard Smith designed the pastel-hued Waterview Cluster—a modern invocation of the colorful, multistory rowhouses that surround the inlet in Portofino, Italy. Farther out, she designed Coleson Cluster, a series of flat-roofed townhouses with floor-to-ceiling windows. Philadelphia architect Louis Sauer, meanwhile, created the angular, wood-and-brick Golf Course Island townhouses amid the fairways of Hidden Creek Country Club.
Why townhouses in the suburbs? "Simon's whole idea was to design the anti-Levittown," says real-estate agent Michael Shapiro, whose Modern Capital blog explores midcentury architecture around Washington. Rather than identical houses stretching down long streets, Simon envisioned higher-density pockets that would allow more communal acreage devoted to nature. Of the midcentury homes available today, Shapiro considers those in Reston to be hidden gems, in both style and affordability. Whereas Goodman houses in Alexandria's Hollin Hills sell in the $800,000 range, for instance, his Hickory Cluster townhouses can go for less than $400,000.
Robert Simon also commissioned public art in Reston, says his widow, Cheryl Terio-Simon: "The architecture and public art were designed as a whole and are a reflection of the importance Bob placed on whimsy and fun in everyday life."
Youngren has continued in that tradition. He designed a bridge over a creek near Hickory Cluster, whose rails echo the slatted-wood screens on the cluster's balconies and terraces. The neighborhood's association board voted to name the bridge after him when it was completed last year.
This article appears in the December 2017 issue of Washingtonian.