All Purpose
1250 Ninth St., NW; 79 Potomac Ave., SE
Crisp-bottomed, Jersey-style pizzas, stretched from a dough that ferments for three days and finished in a deck oven, are what these Shaw and Navy Yard restaurants are best known for. We like the pepperoni-and-honey Buona and the sausage-and-peppers-strewn Duke #7, but keep an eye out for seasonal specials. And grab a side of feta ranch for crust-dipping.
Anafre
3704 14th St., NW
Seafood tops everything from guacamole to nachos to pizza at this Coastal Mexican dining room in Columbia Heights. One crust holds octopus, pickled jalapeno, avocado, and mozzarella, and another boasts a mix of shrimp and chorizo. We're fans of the chile relleno pie with poblanos, chihuahua and Oaxaca cheese, sour cream, and chili sauce.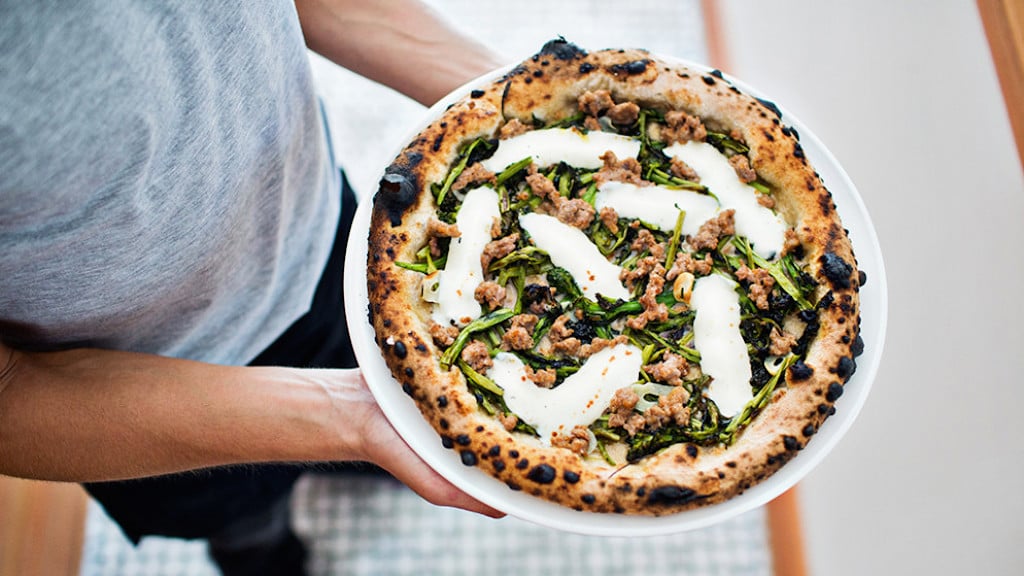 Etto
1541 14th St., NW
This airy, no-reservations Logan Circle spot mills its own flour for its blistered pizzas, which are topped with seasonal delicacies like braised fennel, spring garlic, or Manila clams. Don't miss out on the chalkboard offerings and the snacky stuff, whether anchovies with green sauce or a wonderfully crunchy salad of celery, walnuts, and Pecorino. 
Happy Gyro
1509 17th St., NW
A long, long time ago, Johnny Monis served pizza at Komi, the Dupont Circle restaurant that evolved into one of DC's great tasting menu destinations (it's since closed). At this more low-key dinner-only carryout in its former dining room, his kitchen is at it again, this time turning out square slices of "grandpa" pies: semolina sourdough pizza topped with say, gorgonzola, salami, and Calmyrna figs. Or just go for the straight pepperoni-and-mozz', laden with vodka sauce. 
Inferno Pizzeria Napoletana
12207 Darnestown Rd., Darnestown
We're going to go ahead and say it: This is the best pizza in the region. Fine-dining veteran Tony Conte has mastered a crust both crackly and soft for his standout Margherita and seasonal pies accessorized with butternut-squash Bolognese or lemon ricotta. The menu is small but mighty—we found ourselves raving about even a simple lettuce salad dressed with nothing more than truffle vinaigrette. 
L'Ardente
200 Massachusetts Ave., NW
Rarely does a restaurant swagger onto the scene like this wood-fired Italian hotspot from Unconventional Diner duo Eric Eden and David Deshaies. Luxe mains like 40 layer shortrib-and-truffle lasagna or lobster Thermidor capture much of the attention, but the more affordable pizza menu, available at both lunch and dinner, is worth seeking out, too. The thin pies arrayed with morels and wild mushrooms or meatballs and pepperoncini make delightful shares. 
2 Amys
3715 Macomb St., NW
Peter Pastan's Cathedral Height institution serves some of the best Neapolitan-style pizza in the city. The simple Margherita is a thing of beauty, bubble-crusted and carefully arrayed with buffalo mozzarella. We're also longtime fans of the Vongole 1.0, a zesty, garlicky pie with cockles in their shells, and the Norcia, with salami and grilled peppers.