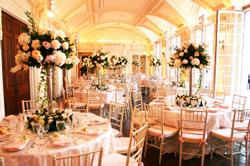 What's a party without guests, right? This Thursday, Carol Marino, owner of A Perfect Wedding in Fairfax, will join Bridal Party from 11 AM to noon for a keyboard-to-keyboard chat with all of you. Since founding A Perfect Wedding in 1993, Carol has planned hundreds of weddings in Washington and beyond. She's been featured in some of my favorite bridal magazines: In Style Weddings, Martha Stewart Weddings, and Modern Bride. She's been on national TV and has traveled around the country to speak about her work. And she's here to answer your questions—for free. Submit any burning Q's you have about planning your wedding here right now, and Carol will get you some A's during the chat. Or log on at 11 on Thursday and talk with her live.
If you can't tune in then, the transcript will be posted afterward. And good news! We've got three more chats around the corner—every Thursday in January. Check back soon for more details.
If there's a topic you'd like to see featured in a future online chat (flowers? cakes? dresses?), e-mail me at mconrad@washingtonian.com.
To read the latest Bridal Party blog posts, click here.