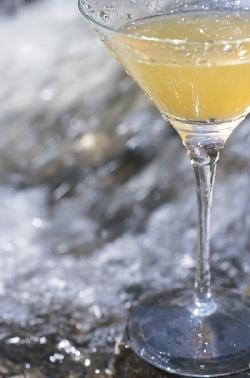 Two years ago, then-DC resident Natalie Bovis-Nelsen quit her job in restaurant PR to launch a career as a writer. Cocktails? Not part of the plan. But after reading, traveling, and learning more about wines and spirits, she was hooked. Dubbing herself the Liquid Muse, she launched an all-about-cocktails Web site in April 2006.
Bovis-Nelsen blogs, offers a cocktail of the week, and runs a service called the Liquid Muse Signature Cocktails. The quick version: You decide you want a drink designed just for your wedding, shower, or bachelor(ette) party, she creates it, and you serve it to guests along with keepsake coasters printed with the recipe. Pretty fancy.
I had a phone date with Bovis-Nelsen—who now lives in LA—to hear all about her work with brides, grooms, and, um, Lindsay Lohan:
Pretend I'm a bride calling you about creating a cocktail for my groom and me. How do you figure out what goes into "our" drink?
My number-one question is: What kind of spirits do you like to drink? Because some people will absolutely not touch gin, or others are sick of vodka. Some people love Champagne; other people can't handle the carbonation. So I start there. And then we'll talk about your families. For example, somebody who is Italian might want to incorporate some Italian spirits like Prosecco into the celebration. Then, how adventurous you want to get with your cocktail. I can come up with some things that are pretty unusual, and for some people that's exactly what they're looking for. Other people want to stay traditional. I want to really get a sense of who they are and what they want their drink to say about them, while keeping in mind that it needs to be something that most people at the wedding will want to drink.
Do you incorporate the theme of the wedding?
If that's what works. Maybe their celebration is in a garden and they want a really beautiful martini, so I'll do hints of lavender or garnish it with edible flowers—nice personal touches that reflect the ceremony and their personality.

Tell me about some of your favorite creations.
When it comes to weddings, I always like to respect people's privacy. But I can talk about some other drinks I've made for other occasions. I designed a nonalcoholic drink in honor of Lindsay Lohan's birthday, so I called that one Pop Princess on Parole. I created cocktails for a celebrity poker tournament at the Playboy Mansion, so I called one the Queen of Hearts, and another the Rémy Royal Flush.
Have you designed cocktails for any Washington weddings?
Oh, yes. I'm doing one for a wedding in DC coming up in April. They're getting married at Evermay. It's a really beautiful, upscale wedding. I was just talking with the bride earlier today, and her wedding is obviously a spring wedding, very elegant, and that will the tone of the drink. The name of the drink, the ingredients of the drink, the look of the drink will all reflect that.
How many weddings do you take at a time?
It depends. I get busy with corporate clients—I work with a lot of liquor companies and do recipes for them. So I can only take a limited number of weddings and birthday parties. But I got married two years ago and I know how exciting it is to get married, and I think it's really cool for someone who's getting married to have a signature cocktail.

Bovis-Nelsen's wedding packages start at $275, which includes a drink recipe, with one revision if necessary, plus 100 coasters printed with the recipe. E-mail natalie@theliquidmuse.com to inquire about availability.
To read the latest Bridal Party blog posts, click here.