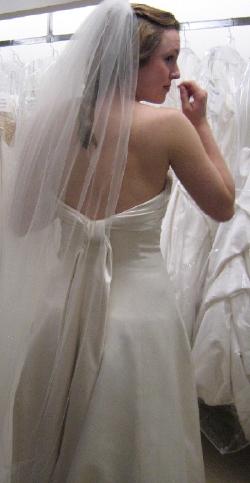 So, a really big part of me wanted to find the dress right away. It's like Cinderella—once she gets the beautiful ball gown, everything starts falling into place. Sure, there are a few roadblocks trying to thwart her way to happiness with the prince (evil stepmother, mean stepsisters, Lucifer the cat), but the dress is a key part, and it would have been so great to find that pivotal part of my own fairy tale right away.
That didn't happen. Saturday morning brought sunshine and the sweetness of whole-wheat banana pancakes with my maid-of-honor, Jen, and my roommate, but I was also feeling a little under the weather. My mom stopped in around 11 and swooped us down to Alexandria for my first appointment at Hannelore's bridal boutique. I met with Hannelore herself, a little lady with loads of personality and 27 years' expertise. I browsed the sale section, and one by Stewart Parvin, who designs for the Queen Mother, made my own mum cry.
The mushy moment quickly evaporated as Hannelore took the reins—or, should I say, the zippers. Things got a little tense when she asked my mother and Jen to leave the dressing room and then refused to let me try on a dress that was "too old" for me. But I have to hand it to her. Several dresses that she picked out for me I'd have never chosen myself, and they were gorgeous.

We moved on upstairs to the full-price dresses. I guess most sample dresses at boutiques average a size ten, so Hannelore was constantly pinning me and even shoving pillows down the back of them to give me a better idea of the fit. You can see the Hunchback of Notre Dame look I'm sporting in the mirror's reflection. She also kept reassuring me that having my face and hair done would drastically change the whole package. (I was getting over a cold.) Jen picked a Christos design with Alonson lace at the chest and hemline. It had just the hint of a train that would be bustled, and it felt beautiful. It also rang in at $4,800—unfortunately about four grand over what I'd like to spend.
So, we slid on down the road to Nicole Miller and tried on a few dresses that were pretty but just didn't say "wedding" like the others had. A little bit discouraging, but okay. The dress is something you can't settle on, and thanks to your comments and some friends' suggestions, I've got some great leads.
The hunt for the dress will continue, but this weekend it's on hold. Drew and I are flying to Nashville to check out a bunch of churches and reception sites. We've decided to save Sunday to enjoy being engaged and maybe doing something that involves dirt and the country and not wedding planning, but Saturday is booked through. My mom and I sat down Monday night and made a list of questions to ask. Things like, "What's your church's policy on strapless dresses?" Seriously, some churches don't allow it.
Suggestions on other good questions to ask? Any ingenious ideas on non-traditional reception sites? I'd love them.
Where did you hold your wedding? Give Emily some inspiration in the comments section.

To follow Emily's adventures from the beginning, click here.
To read the latest Bridal Party blog posts, click here.