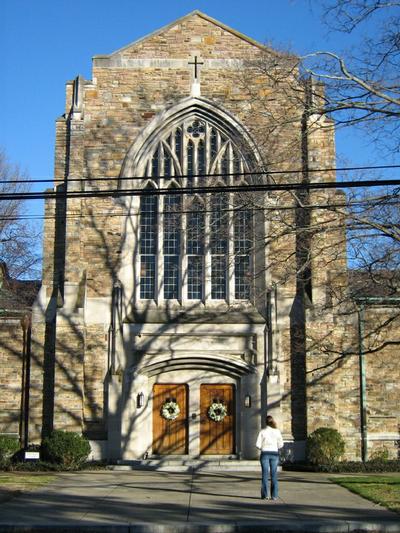 I hope everyone had a fabulous Valentine's Day. Drew surprised me with tickets to Romeo and Juliet at Rosslyn Spectrum Theatre, and the performance was amazing. No words, all movement, and totally captivating. Afterward, we raided the grocery store near my apartment and made a Mexican feast at 11 PM. (Not good for the wedding diet, but that's a story for another post.) Regardless, I'm energized to tell the tale of our church and reception-site hunting in Nashville this past weekend.
With great expectations, Drew and I took the Metro to Union Station on Friday evening. The MARC train ride and Southwest flight were easy, uneventful, and full of excited conversations and hope for the future. Drew's parents were there to meet us at the Nashville airport. After driving to their house and eating a midnight snack of chicken-salad sandwiches and Kettle potato chips (also not great for the wedding diet), I slept so deeply that I drooled. Lucky for me, Drew will be locked in and married to me before he sees that drooling side!
I awoke excited to find the places we'd marry and party on our wedding day. Our Saturday line-up included plantation homes, museum rooms, and old hotels. In these, our wake-up call rang loud and clear: Some of the reception sites would have eaten up most or all of our budget. Crazy!
We're determined to find cheaper but still creative, elegant, and awesome alternatives. My coworker, for instance, had her wedding and reception in the Crayola Factory.
We also looked at churches in Tennessee. A ton were either booked or didn't allow nonmember weddings or didn't do holiday-weekend weddings, but we did find one. The Wightman Chapel at Scarritt-Bennett Center, near Vanderbilt's campus, is a long, narrow, cathedral-like church, medieval-looking but still somehow contemporary. I got chills when I walked in.
Drew and I shared a knowing smile and decided to book it. I had never thought about an afternoon wedding, but 1 PM was all they had available and almost all other weekends were booked. How beautiful will it be to walk down the aisle with afternoon light streaming through the windows? It's also going to be a more cost-effective time of day. At the reception, we can serve lighter, lunch-type fare rather than a heavy sit-down dinner. Also, the church is such a work of art in itself that there won't be too much need for decorations.
So—one TheKnot.com to-do item ticked off, 172 to go. Literally. As for the reception, it's back to Internet searching and phone calling.
Help Emily out: What's the best, most creative, or craziest wedding reception you've ever been to? Let her know in the comments section.
To follow Emily's adventures from the beginning, click here.
To read the latest Bridal Party blog posts, click here.