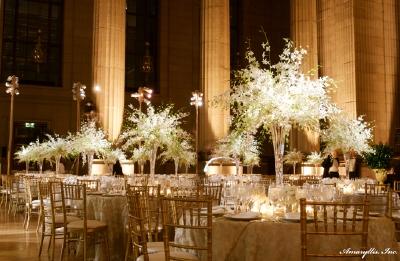 Friends who have tied the knot lately say that picking flowers was one of the hardest parts of planning. You have to think about size, shape, price, and color—and what blooms will be in season on your wedding day. If you want some advice before you hit the florist, Bridal Party is bringing in Rick Davis, owner of Amaryllis florist in Northeast DC, to answer your questions about bridal bouquets, boutonnieres, table decorations, and more.
Rick has been with Amaryllis since it opened in 1989. He was chief designer as the store transformed itself from a flower shop in a hotel basement to what it is today—a large and well-known special-event company. Rick has been featured in magazines such as Food & Wine, In Style Weddings, and Grace Ormonde Wedding Style. He took over as owner of Amaryllis in 2002.
Whether you're curious about how to get cherry blossoms out of season or panicked because no flowers seem to come in blue (the chief component of your color scheme!), Rick will be happy to answer your questions during a live chat this Thursday, February 28, from 11 to noon. Submit questions now or during the chat. As always, the chat transcript will be posted afterward.
To read Bridal Party's past chats with jewelers, wedding planners, and more, click here.
To read the latest Bridal Party blog posts, click here.