It's a Carolyn Hax-worthy dilemma: You hate—no, despise—the Electric Slide, but your fiancé thinks it's a dance-floor staple. Should you play it? Skip it? Is there a cheesy dance song you both can love? Ask Andy Kushner, entertainment producer of Sound Connection, a Washington-based band that plays everything from weddings to Donald Trump's New Year's Eve parties.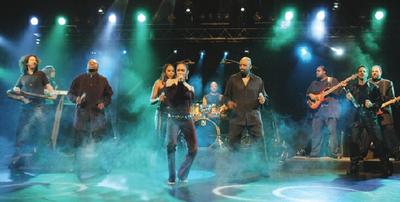 Andy is Mr. Music: At age 15, he was already leading bands at pro soccer games in Tampa Stadium. He studied management and music at Boston University, then spent 16 years in business before starting the dance band Sound Connection. Today he leads Sound Connection and two other local bands, Sound Nation and Marquise.
Sound Connection's ten musicians, singers, and dancers do it all (see that Donald Trump part above), but they love weddings. The band was featured on a wedding-planning segment of TBS's Movie and a Makeover, and Brides magazine called on Andy to help do a wedding at Cinderella's Castle at Disney World that was aired on Entertainment Tonight and the Food Network.
Castle wedding or not, Andy can help you pick some songs to play, advise you how long the music should last, give you tips if you're planning on doing the music yourself (hello, iPod), or take any other questions you throw his way. Submit them now, and he'll answer during the live chat on Thursday from 11 to noon. If you can't be online Thursday morning, check back afterward to read a transcript of Andy's advice.
In the meantime, check out these past Bridal Party Q&As to get great advice for your big day.
To read the latest Bridal Party blog posts, click here.